20 April 2020; Nottingham, UK: Copley Scientific will shortly begin the company's inaugural series of technical webinars, offering valuable, easy to understand overviews on key aspects of inhaler testing. Copley is the world's leading manufacturer and supplier of inhaler test equipment and exemplary training is a hallmark of the company's customer-centric approach. Each 'Quick guide to…' webinar will focus on the specific device type to be tested – metered dose inhalers (MDIs), dry powder inhalers (DPIs) or nebulisers – or a critical area of interest such as regulatory updates and achieving better in vitro-in vivo correlations (IVIVCs). The new series will run over the coming quarter, building to an important resource for both novice and experienced researchers. Register here to attend the first webinar, on MDIs, at 10:00 AM (BST) on April 29th, which will be delivered by Anna Sipitanou, Business Development Manager and one of Copley's most knowledgeable trainers.
"I'm looking forward to delivering the first in this webinar series," said Anna Sipitanou, "since I know we'll be able to share a lot of information that customers will find helpful. The aim is to provide an up-to-date overview in each area. Those new to inhaler testing can use this as an introduction, while those with more experience can brush up on the basics and learn about new developments. Once complete the full series will usefully complement the comprehensive, in-house and tailored training we provide to directly meet specific customer requirements."
The webinars will draw on Copley's extensive knowledge of the regulatory requirements for both delivered dose uniformity testing and aerodynamic particle size distribution measurement and practical experience of helping laboratory analysts implement effective testing strategies.
"Topics on the agenda for the initial MDI webinar include regulatory in vitro testing requirements, common issues encountered in testing and troubleshooting," said Anna Sipitanou. "All the webinars will be around an hour long and conclude with time for questions. There's no charge to attend so I'm hoping plenty of people will take the opportunity to advance their learning and understanding."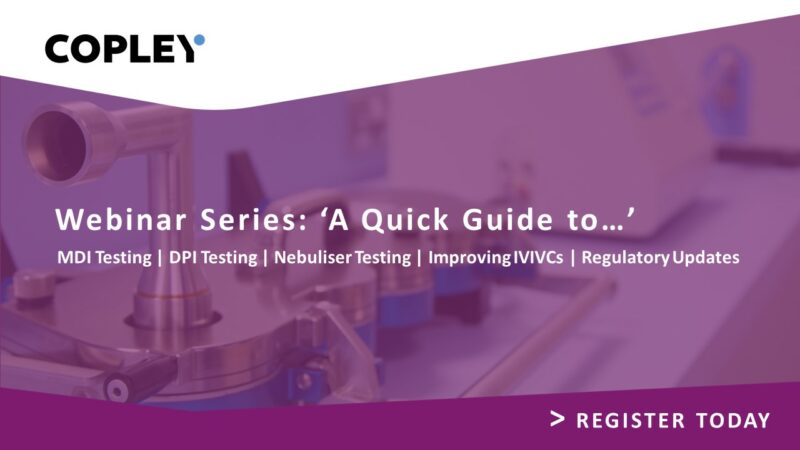 CAPTION: Copley Scientific launches their inaugural webinar series for inhaler testing
About Copley Scientific
Copley Scientific is widely recognised as the world's leading manufacturer and supplier of inhaler test equipment and is a major provider of testing systems for other pharmaceutical dosage forms. The company also supplies equipment for detergent testing.
Copley's pharmaceutical product range includes test equipment for all types of orally inhaled and nasal drug products – metered-dose inhalers, dry powder inhalers, nebulisers and nasal sprays – with a particular focus on solutions for delivered dose uniformity and aerodynamic particle size distribution measurement. It also includes testers for tablets (dissolution, disintegration, friability and hardness) capsules, powders, suppositories, semisolids and transdermals.
Used from R&D through to QC, this extensive range of equipment is supported by a full validation and aftersales service. Copley Scientific has offices in the UK and Switzerland and works in partnership with aerosol particle science experts MSP Corporation in North America; specialist distributors extend localised support across the world. This network provides expert help and training to every customer, directly enhancing the application of all Copley products. www.copleyscientific.com