17 May 2011; Nottingham, UK: Copley Scientific will exhibit the Tergotometer detergent testing system at CESIO 2011, the 8th World Surfactant Congress and Business Convention, which takes place in Vienna, Austria from June 6 – 8, 2011.
The Copley Scientific Tergotometer is a convenient and economical laboratory-scale system that is widely used to test the effectiveness of soaps and detergents or the washability and colourfastness of fabrics and other materials. To do this it mimics the action of a domestic washing machine using eight individual one-litre washing machine simulators. This scaled down test environment minimises the quantity of detergent required during development and QC processes, whilst maximising accuracy and throughput in a laboratory environment.
A series of eight paddles agitate the contents of each vessel at speeds from 50-200 rpm while an external digital heater/circulator controls the temperature in the range of 0-70°C.
Optional extras include a refrigeration unit that reduces the temperature of the vessels to 0°C, stainless steel paddles, paddles that allow attachment of small fabric pieces and a modification that enables the agitation to be reversed every ten revolutions.
For further details about the Tergotometer, or any of the other detergent testing equipment available from Copley Scientific, please visit www.copleyscientific.com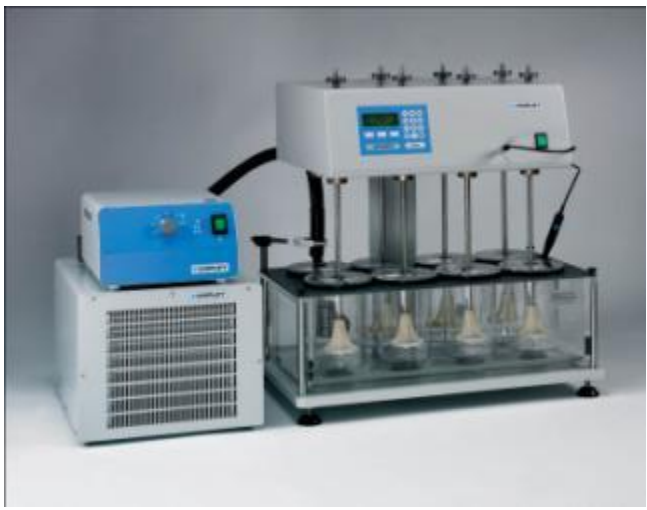 CAPTION: Copley Scientific's Tergotometer is a precision benchtop detergent tester that simulates the action of a domestic washing machine.
About Copley Scientific
Copley Scientific is recognised as the world's leading manufacturer and supplier of inhaler test equipment and is a major provider of testing systems for other pharmaceutical dosage forms. The company is also active in detergent testing, air sampling and aerosol characterisation.
Copley Scientific's pharmaceutical product range includes test equipment for: delivered dose uniformity and aerodynamic particle size measurement of metered-dose inhalers, dry powder inhalers, nebulizers and nasal sprays; as well as tablets (dissolution, disintegration, friability and hardness) capsules, powders, suppositories and transdermals.
Copley Scientific has offices in the UK and Switzerland. The company works in partnership with aerosol particle science experts MSP Corporation in North America, and also distributes MSP Corporation's air sampling and aerosol characterisation products throughout Europe.
Serving the pharmaceutical and associated industries, Copley Scientific offers an extensive range of equipment for research, development and quality control, as well as full validation and aftersales services. This broad range of products is supplied and supported worldwide through a network of specialist distributors. www.copleyscientific.com