11 March 2014; Nottingham, UK: Copley Scientific will exhibit a suite of new equipment launched to meet evolving test requirements for innovator and generic inhaled products at Respiratory Drug Delivery 2014 (RDD 2014, Fajardo, Puerto Rico, 4-8 May). On display will be the Child Alberta Idealised Throat (AIT), for the representative testing of inhalers for paediatric use, and equipment for testing in accordance with the latest additions to the US Pharmacopeia (USP). This includes the BRS 1100 breathing simulator, for nebulisers and metered dose inhalers with add-on devices, and new accessories for the testing of Fluticasone Propionate Inhalation Powder (FP), a globally used asthma treatment. To find out more, please visit the Copley Scientific stand or www.copleyscientific.com
The new Second Supplement monograph provides product-specific testing for FP, a common target for generic development. Copley Scientific has introduced the Glass Dose Uniformity Sampling Apparatus (DUSA), FP Induction Port and Pre-separator for use with the Andersen Cascade Impactor (ACI) to meet the requirements of this new monograph and all will be on display at RDD 2014. In combination with the BAC 2000, a timer-controlled solenoid valve, these accessories enable modification of the standard test set-up for inhaler product testing to meet the specifications of the new monograph.
Also on display will be the BRS 1100 and Child AIT. The BRS 1100 is a simple, microprocessorcontrolled breathing simulator that generates the breathing profiles for all the patient groups specified by USP and the European Pharmacopoeia for the dose uniformity testing of nebulisers (adult, child, infant and neonate). It similarly enables patient-representative testing of MDIs with spacers and valved holding chambers (VHCs) in accordance with the new draft USP monograph <1602>.
The Child AIT can be used to gather test data that are of direct relevance to paediatric patients. It more accurately simulates the deposition of orally inhaled products in the upper respiratory tract than does the standard USP induction port which is routinely used for APSD measurement. By making testing more representative of in-vivo behaviour, the Child AIT enables more robust Contact details to follow… COP/JOB/265 Page 2 of 3 demonstration of bioequivalence as well as supporting the advancement of more efficient inhaled technology for paediatric patients.
Visit the Copley Scientific stand for expert advice on the application of any of the new products or to discuss recent advances in inhaler testing.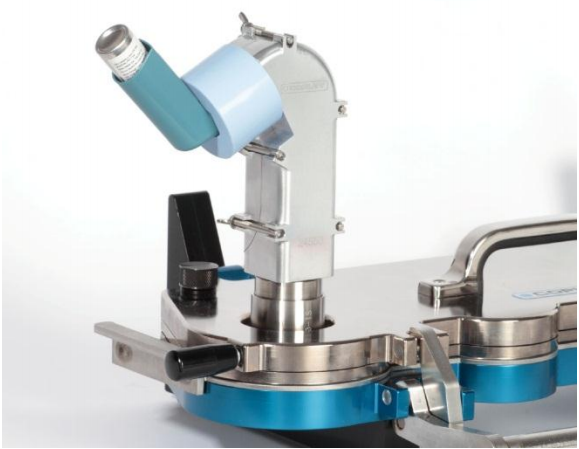 CAPTION: The Child Alberta Idealised Throat (AIT) from Copley Scientific, for the representative testing of inhalers for paediatric use.
About Copley Scientific
Copley Scientific is recognised as the world's leading manufacturer and supplier of inhaler test equipment and is a major provider of testing systems for other pharmaceutical dosage forms. The company is also active in detergent testing, air sampling and aerosol characterisation.
Copley Scientific's pharmaceutical product range includes test equipment for: delivered dose uniformity and aerodynamic particle size measurement of metered-dose inhalers, dry powder inhalers, nebulizers and nasal sprays; as well as tablets (dissolution, disintegration, friability and hardness) capsules, powders, suppositories and transdermals.
Copley Scientific has offices in the UK and Switzerland. The company works in partnership with aerosol particle science experts MSP Corporation in North America, and also distributes MSP Corporation's air sampling and aerosol characterisation products throughout Europe.
Serving the pharmaceutical and associated industries, Copley Scientific offers an extensive range of equipment for research, development and quality control, as well as full validation and aftersales services. This broad range of products is supplied and supported worldwide through a network of specialist distributors. www.copleyscientific.com