30 October 2018; Nottingham, UK: A major extension that more than doubles the size of Copley Scientific's UK headquarters, located in Colwick in the Borough of Gedling, is now officially ready for business, following a formal opening by local Member of Parliament (MP) Vernon Coaker. Mr Coaker cut a ribbon on the entrance doors to the new building before joining the Copley team for a celebratory lunch. Completed in just over 18 months – from breaking ground to official opening – the new building and refurbishment of the existing building, are a direct response to sustained growth over a number of years and make a confident statement regarding the company's future.
"I'd like to thank Mark Copley and his team for making me so welcome here today,' said Vernon Coaker 'and to pay tribute to the hard work, drive and commitment that has made Copley Scientific the thriving company that it is today. Copley has flourished by remaining relevant and responsive to the needs of a pharmaceutical industry that has changed beyond all recognition since the 1940s when the company was founded. From its origins as a supplier to local businesses Copley has become a global leader in its chosen field, directly supporting the development of novel drug products that have a transformative impact on the day-to-day lives of so many people."
Founded by Frank Copley in 1946, Copley Scientific began as a laboratory glassware supplier to the local pharmaceutical industry, in particular, Boots the Chemist, a well-known Nottingham company. The transition to pharmaceutical test equipment – especially tablets – began in the 1950s with growing emphasis on inhaler testing from the 1980s onwards, as the science of pulmonary drug delivery developed rapidly. Today, Copley is widely acknowledged as the world's leading manufacturer and supplier of inhaler testing equipment and a major supplier of tablet and detergent testing equipment, with product innovation, quality and value recognised across the globe. More than 85% of company's products and services are exported to markets such as Europe, US, India and China, but most company functions, including manufacturing and assembly, remain in the UK.
"Copley illustrates that with the right blend of agility, engineering excellence and customer service UK companies can compete extremely effectively in the global marketplace,' said Mr Coaker. 'I'm particularly impressed with the new, high-tech product development and manufacturing facility and the state-of-the-art customer training and entertainment suite. It is very clear that Copley has laid the firmest of foundations for future growth and I wish the company every success in its world-class headquarters."
For more information about Copley Scientific and the products it makes please contact: sales@copleyscientific.co.uk. Alternatively, to see the full range go to http://www.copleyscientific.com/downloads/brochures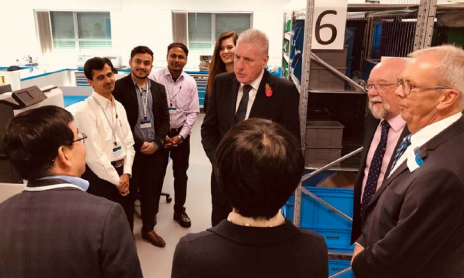 CAPTION: Vernon Coaker MP impressed by the global reach of Copley Scientific, discussing export success with distributors present at the opening.
About Copley Scientific
Copley Scientific is widely recognised as the world's leading manufacturer and supplier of inhaler test equipment and is a major provider of testing systems for other pharmaceutical dosage forms. The company also supplies equipment for detergent testing.
Copley Scientific's pharmaceutical product range includes test equipment for all types of orally inhaled and nasal drug products – metered-dose inhalers, dry powder inhalers, nebulizers and nasal sprays – with a particular focus on solutions for delivered dose uniformity and aerodynamic particle size distribution measurement. It also includes testers for tablets (dissolution, disintegration, friability and hardness) capsules, powders, suppositories, semisolids and transdermals.
Used from R&D through to QC, this extensive range of equipment is supported by a full validation and aftersales service. Copley Scientific has offices in the UK and Switzerland and works in partnership with aerosol particle science experts MSP Corporation in North America; specialist distributors extend localised support across the world. This network provides expert help and training to every customer, directly enhancing the application of all Copley Scientific products.