31 October 2013; Nottingham, UK: Copley Scientific has launched a new critical flow controller model, the TPK-R™, to improve the ergonomics of test set-up when using the Next Generation Impactor (NGI) for dry powder inhaler (DPI) testing. A mirror image of the Critical Flow Controller Model TPK™ , itself an industry standard, the TPK-R produces the stable, defined air flow profile required for successful aerodynamic particle size measurement with the NGI. For more information on the new model, please visit www.copleyscientific.com
Measuring the aerodynamic particle size distribution of DPIs is an essential in vitro test during product development and for QC. Cascade impaction is the required technique with the NGI normally being the impactor of choice. Testing must be carried out at a constant, controlled air flow rate to ensure that the NGI delivers precise, calibrated performance.
Copley Scientific's TPK Critical Flow Controllers incorporate all the functionality required to ensure the application of a stable, precisely defined flow profile, in a single integrated system. The brand new model is identical to the TPK in all respects except for the inlet, outlet and user interfaces, which have all been reversed to connect more conveniently with the right-hand outlet of the NGI. Using the TPK-R therefore allows the more efficient use of laboratory bench space, without compromising the validity of existing test methods.
TPK and TPK-R are trademarks of Copley Scientific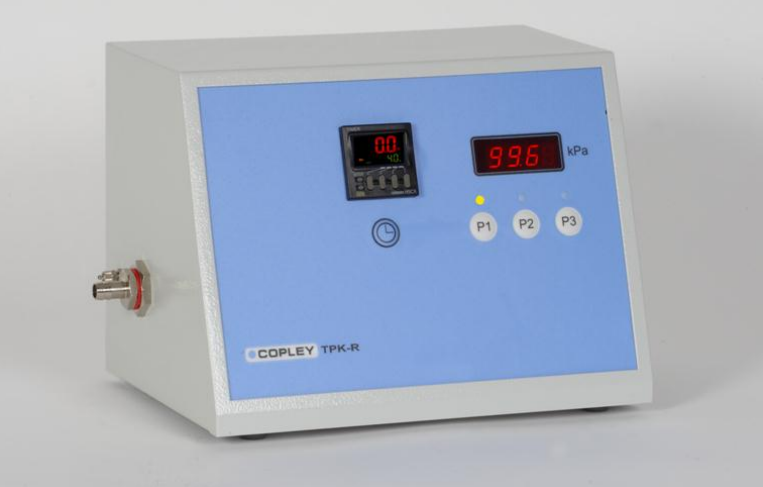 CAPTION: The new Critical Flow Controller Model TPK-R™ from Copley Scientific
About Copley Scientific
Copley Scientific is recognised as the world's leading manufacturer and supplier of inhaler test equipment and is a major provider of testing systems for other pharmaceutical dosage forms. The company is also active in detergent testing, air sampling and aerosol characterisation.
Copley Scientific's pharmaceutical product range includes test equipment for: delivered dose uniformity and aerodynamic particle size measurement of metered-dose inhalers, dry powder inhalers, nebulizers and nasal sprays; as well as tablets (dissolution, disintegration, friability and hardness) capsules, powders, suppositories and transdermals.
Copley Scientific has offices in the UK and Switzerland. The company works in partnership with aerosol particle science experts MSP Corporation in North America, and also distributes MSP Corporation's air sampling and aerosol characterisation products throughout Europe.
Serving the pharmaceutical and associated industries, Copley Scientific offers an extensive range of equipment for research, development and quality control, as well as full validation and aftersales services. This broad range of products is supplied and supported worldwide through a network of specialist distributors. www.copleyscientific.com