28 April 2022; Nottingham, UK: Copley Scientific, the global leader in inhaled product testing equipment, has launched the new Gentle Rocker 100i, a simple, cost-effective device that boosts the productivity and repeatability of aerodynamic particle size distribution (APSD) measurements with the Next Generation Impactor (NGI). APSD is a critical quality attribute for all orally inhaled and nasal drug products (OINDPs) and routinely measured with the NGI. The new Gentle Rocker 100i offers:
Method flexibility, enabling agitation at speeds across the range 10 to 60 rpm
Touchscreen operation with clearly displayed test parameters, time elapsed monitoring and audible alarm options
Convenient tilting functionality to facilitate effective solution sampling post drug recovery
Efficient reporting including data transfer to printer or PC
An optional evaporation cover (with seals) for volatile solvent handling.
The recovery of drug from each collection cup is a critical but time-consuming element of APSD measurement with the NGI. It involves dispensing a defined aliquot of solvent into each cup, followed by agitation to ensure complete drug dissolution. The Gentle Rocker 100i holds a full tray of collection cups and applies a consistent, defined agitation pattern to ensure well-controlled and complete drug dissolution. It enables the application of specific, reproducible methods and easy method transfer, delivering reliable results and a lighter analytical workload.
The Gentle Rocker 100i is just one of a range of semi-automation tools that Copley provides for inhaled product testing. Together these products support a stepwise approach to the automation of test methods that remain predominantly manual in many labs. This approach minimizes risk while maximizing return on investment and maintaining the flexibility to test multiple products. Find out more about Copley's portfolio of semi-automation tools for inhaler testing and how they can help you to achieve higher productivity and reproducibility.
ENDS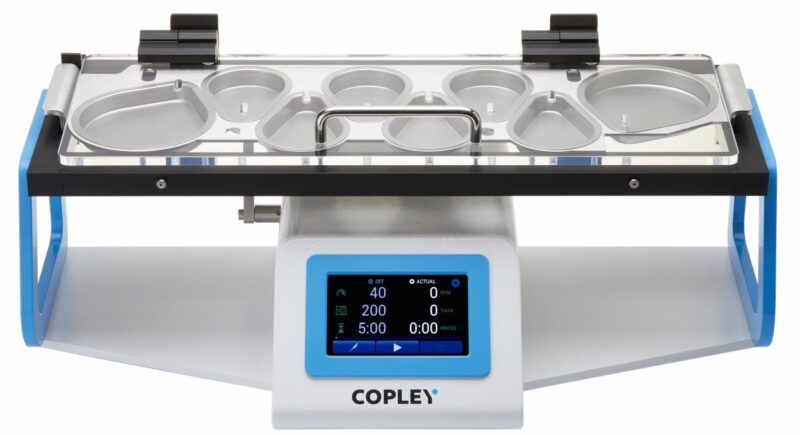 CAPTION: The new Copley Gentle Rocker 100i is a simple tool for drug recovery for the NGI that boosts the efficiency of inhaler testing.
About Copley Scientific
Copley Scientific is widely recognised as the world's leading manufacturer and supplier of inhaler test equipment and is a major provider of testing systems for other pharmaceutical dosage forms. The company also supplies equipment for detergent testing.
Copley's pharmaceutical product range includes test equipment for all types of orally inhaled and nasal drug products – metered-dose inhalers, dry powder inhalers, nebulisers and nasal sprays – with a particular focus on solutions for delivered dose uniformity and aerodynamic particle size distribution measurement. It also includes testers for tablets (dissolution, disintegration, friability and hardness) capsules, powders, suppositories, semisolids and transdermals.
Used from R&D through to QC, this extensive range of equipment is supported by a full validation and aftersales service. Copley Scientific has offices in the UK and Switzerland and works in partnership with aerosol particle science experts MSP Corporation in North America; specialist distributors extend localised support across the world. This network provides expert help and training to every customer, directly enhancing the application of all Copley products. www.copleyscientific.com