1 February 2017; Nottingham, UK: Copley Scientific has revealed plans to more than double the size of its current headquarters in Colwick (Nottingham, UK) to accommodate expansion in every area of its business. Copley Scientific, a global leader in inhaler and tablet test equipment manufacturing, has grown exponentially over recent years and the launch of the Chinese version of the company website is further evidence of the company's continued global success. The new building is expected to come on stream this year.
"Outgrowing the original building is, in many ways, a nice problem to have," said Mark Copley, Sales Director for Copley Scientific.
"We're looking forward to breaking ground on this significant extension which will provide us with all the space we need at the same convenient location. New office space is high on the list of priorities to accommodate additions to the engineering and sales teams, as are significantly expanded warehousing and manufacturing areas. Most of our equipment is manufactured here in the UK, though it is increasingly our export business, which represents over 85% of our turnover, that is driving sales growth."
Comprehensively meeting customer requirements is the underlying driver to all of the latest developments. Continuous innovation ensures that the company's products remain cutting edge but this relies on training and embracing new engineering talent. The new building will most directly impact the day-to-day life of company employees but will also contribute significantly to the customer experience. The expansion of manufacturing and warehousing capability, for example, will allow for increased production rates and higher stock levels, to further enhance the company's reputation for rapid delivery, and there will be a larger, purpose-built training and meeting area.
"Training is a vital element of our offering so we're particularly looking forward to welcoming customers to our new training and meeting suite. This brand new area will give us more space and facilities to showcase all our equipment and demonstrate how it can be used to ensure highly efficient pharmaceutical and detergent testing," said Mr Copley.
To find out more information about Copley Scientific please visit www.copleyscientific.com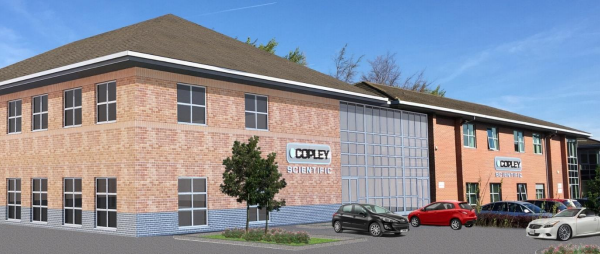 CAPTION: Artist's impression of the extension to Copley Scientific's UK Headquarters
About Copley Scientific
Copley Scientific is recognised as the world's leading manufacturer and supplier of inhaler test equipment and is a major provider of testing systems for other pharmaceutical dosage forms. The company is also active in detergent testing.
Copley Scientific's pharmaceutical product range includes test equipment for delivered dose uniformity and aerodynamic particle size measurement of metered-dose inhalers, dry powder inhalers, nebulizers and nasal sprays; as well as tablets (dissolution, disintegration, friability and hardness) capsules, powders, suppositories, semisolids and transdermals.
Copley Scientific has offices in the UK and Switzerland and works in partnership with aerosol particle science experts MSP Corporation in North America.
Serving the pharmaceutical and detergent industries, Copley Scientific offers an extensive range of equipment for research, development and quality control, as well as full validation and aftersales services. This broad range of products is supplied and supported worldwide through a network of specialist distributors.