25 October 2007; Nottingham, UK: Copley Scientific will demonstrate a new version of CITDAS (Copley Inhaler Testing Data Analysis Software) at Drug Delivery to the Lungs (DDL) 18 (12-14 December 2007 in Edinburgh, UK). CITDAS is a software package that is in widespread use for the analysis of cascade impaction data, the primary analytical method used to assess the performance of inhalation products.
CITDAS is a fully validated software package that can accept results from all commonly used cascade impactors. It automatically generates the complete set of parameters specified by the US and European Pharmacopoeias for inhaler testing. This latest version (version 3) incorporates a range of new features developed in response to customer feedback.
The software will be exhibited together with the NGI (Next Generation Pharmaceutical Impactor) and labour-saving accessories from Copley Scientific's extensive range of inhalation test products. Specialists from the company will be present throughout the conference to discuss any aspect of inhaler testing.
DDL is the premier European conference relating to the development of inhalers for the treatment of respiratory disease and systemic drug delivery. This year it will include themed sessions relating to the science, technology and regulation of drug delivery to the lungs. www.copleyscientific.com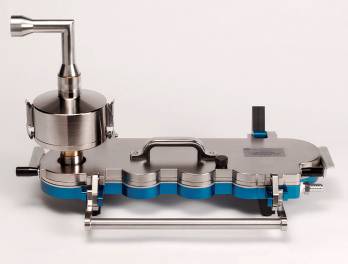 CAPTION: Next Generation Impactor (NGI)
About Copley Scientific
Copley Scientific is recognised as the world's leading manufacturer of inhaler test equipment and is a major supplier of test equipment for pharmaceutical solid dosage forms, including tablet dissolution, disintegration, friability, hardness and powder testers.
The company has offices in the UK and Switzerland and a partnership with aerosol particle science experts MSP Corporation in the US. Copley's broad range of testing products for metered-dose inhalers, dry powder inhalers, nebulizers and nasal sprays are supplied and supported worldwide through close relationships with specialist distributors. Serving the pharmaceutical and associated industries, Copley offers an extensive range of equipment for research, production, clinical trials and quality control, as well as full validation and aftersales service, providing a single source for products that meet individual needs. www.copleyscientific.com