21 July 2010; Nottingham, UK: Copley Scientific will exhibit the latest equipment for testing detergents, including the company's precision benchtop Tergotometer, and equipment for testing powders, at the American Oil Chemists' Society (AOCS) 7th World Conference on Detergents. The conference takes place from 4-7 October 2010 in Montreux, Switzerland.
Used to evaluate detergency properties by washing standardised soiled fabrics, Copley Scientific's Tergotometer combines eight miniature washing machine simulators within a single, benchtop instrument. This scaled down test environment minimises the quantity of detergent required during development and QC processes, whilst maximizing accuracy and throughput in a laboratory environment. Typical applications include: evaluating the effectiveness of detergents; optimising temperature, speed and water hardness parameters; examining the washability and colour fastness of fabrics; routine screening for dirt removal, brightening, softening, foaming and scale build-up.
Through its simple programmable user interface, the Tergotometer can be set for an agitation range of 50 – 200 rpm and an electronically calibrated temperature range from ambient to 70 degrees C. Agitation speed and temperature are managed and monitored during testing via the digital display, with the facility to generate a printed report. With the addition of an optional refrigeration unit, the Tergotometer's temperature capabilities can be extended to below ambient. A modification that enables reversed rotation, to better simulate certain types of washing machine, is also available.
For further details of the Tergotometer, equipment for testing powders and other products from Copley Scientific please visit www.copleyscientfic.com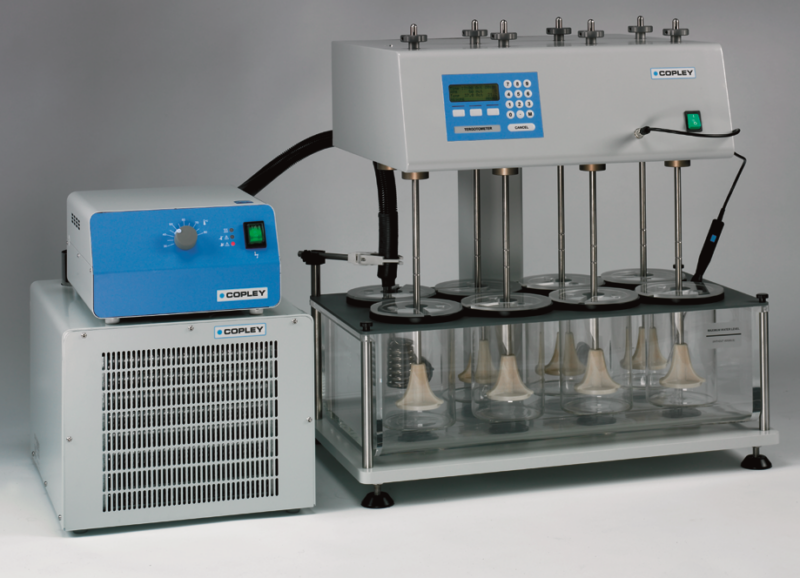 CAPTION: Copley Scientific Tergotometer with refrigeration unit
About Copley Scientific
Copley Scientific is recognised as the world's leading manufacturer and supplier of inhaler test equipment and is a major provider of testing systems for other pharmaceutical dosage forms. The company is also active in detergent testing, air sampling and aerosol characterisation.
Copley Scientific's pharmaceutical product range includes test equipment for: delivered dose uniformity and aerodynamic particle size measurement of metered-dose inhalers, dry powder inhalers, nebulizers and nasal sprays; as well as tablets (dissolution, disintegration, friability and hardness) capsules, powders, suppositories and transdermals.
Copley Scientific has offices in the UK and Switzerland. The company works in partnership with aerosol particle science experts MSP Corporation in North America, and also distributes MSP Corporation's air sampling and aerosol characterisation products throughout Europe.
Serving the pharmaceutical and associated industries, Copley Scientific offers an extensive range of equipment for research, development and quality control, as well as full validation and aftersales services. This broad range of products is supplied and supported worldwide through a network of specialist distributors. www.copleyscientific.com