20 May 2009; Nottingham, UK: The appointment by Copley Scientific of a new service and calibration engineer comes at a time of increasing sales and reinforces the company's commitment to exemplary customer support. Paul McNulty, a field/service engineer with 19 years experience, will undertake on-site installations, qualifications (IQ/OQ/PQ), preventative maintenance and calibrations, for customers across Europe.
Welcoming Paul to the company, Mark Copley, sales director said, "We're seeing significant growth in sales of semi-automation equipment for inhalation product testing as the pharmaceutical industry works to improve productivity. Furthermore, there is increasing demand for a reliable and efficient qualification and maintenance service for tablet dissolution testers. Paul will not only cover the entire Copley range, but also equipment from other manufacturers, strengthening our ability to provide unsurpassed customer support."
Copley Scientific, in partnership with MSP Corporation (USA), has introduced a range of semi-automation products in response to the pharmaceutical industry's need to reduce the time and manual input associated with inhaler testing. Units such as the Andersen and Next Generation Impactor Sample Recovery Systems (A-SRS and N-SRS) are now increasingly used to dramatically improve productivity. Continuous improvement in all aspects of the business is an essential part of the Copley Scientific approach, as recent ISO certification to the very latest ISO 9001:2008 standard demonstrates.
Paul is a qualified electronic/electrical engineer with quality assurance training and broad experience across a number of industries, including the pharmaceutical sector. He brings a wealth of expertise relating to pneumatic, electrical/electronic and mechanical devices. www.copleyscientific.com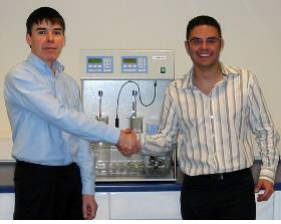 CAPTION: Mark Copley (right), sales director for Copley Scientific, welcomes Paul McNulty to the team
About Copley Scientific
Copley Scientific is recognised as the world's leading manufacturer of inhaler test equipment and is a major supplier of test equipment for pharmaceutical solid dosage forms, including tablet dissolution, disintegration, friability, hardness and powder testers. The company has offices in the UK and Switzerland and a partnership with aerosol particle science experts MSP Corporation in North America. Copley's broad range of testing products for metered-dose inhalers, dry powder inhalers, nebulizers and nasal sprays are supplied and supported worldwide through close relationships with specialist distributors. Serving the pharmaceutical and associated industries, Copley offers an extensive range of equipment for research, development and quality control, as well as full validation and aftersales service, providing a single source for products that meet individual needs. www.copleyscientific.com