7 September 2011; Nottingham, UK: Returning from a successful trip to China, where he was the invited guest of the National Institute for Food and Drug Control (NIFDC) (the department of the State Food and Drug Adminstration (SFDA) responsible for drug testing) Mark Copley, Sales Director for Copley Scientific, is enthusiastic about how inhaled product testing is developing in the country and delighted with the response to training sessions that he delivered.
"It was a real privilege to visit both the Shanghai and Beijing branches of the NIFDC and see first hand how China is developing its approach to inhaled product testing and the standards that it will apply," said Mark Copley, "The training we delivered was well-received and discussions about revisions to the Chinese pharmacopoeia were both interesting and productive. As a company we hope to continue to cement relationships with both the regulatory authorities and inhaler manufacturers, assisting in developing and expanding their knowledge base and testing capabilities".
At both the Bejing and Shanghai branches of the NIFDC, Mark Copley delivered training on delivered dose uniformity testing and the use of cascade impactors, such as the Next Generation Impactor, which are routinely used to measure the aerodynamic particle size of pharmaceutical aerosols. He also met with Dr Huimin Hou, director of the National Pharmaceutical Engineering Research Centre (NPERC) and chair of the pharmacopoeia committee, to discuss how China plans to develop inhaled product testing standards for inclusion in the revised pharmacopoeia, which is scheduled for release in 2015. www.copleyscientific.com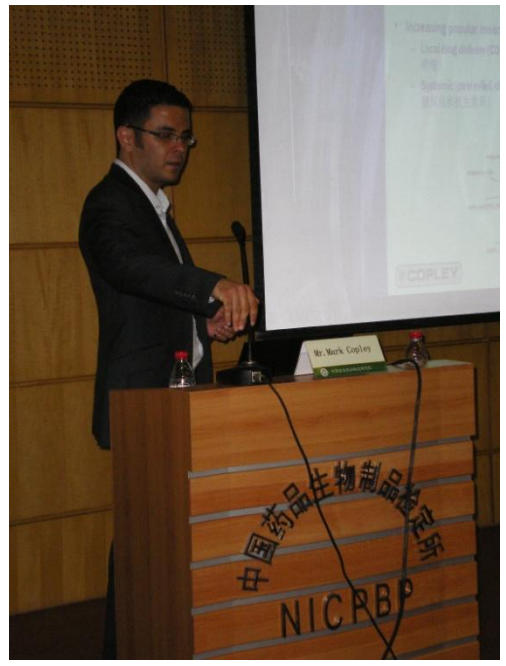 CAPTION: Mark Copley on a recent visit to the National Institute for Food and Drug Control (NIFDC) in Beijing, China
About Copley Scientific
Copley Scientific is recognised as the world's leading manufacturer and supplier of inhaler test equipment and is a major provider of testing systems for other pharmaceutical dosage forms. The company is also active in detergent testing, air sampling and aerosol characterisation.
Copley Scientific's pharmaceutical product range includes test equipment for: delivered dose uniformity and aerodynamic particle size measurement of metered-dose inhalers, dry powder inhalers, nebulizers and nasal sprays; as well as tablets (dissolution, disintegration, friability and hardness) capsules, powders, suppositories and transdermals.
Copley Scientific has offices in the UK and Switzerland. The company works in partnership with aerosol particle science experts MSP Corporation in North America, and also distributes MSP Corporation's air sampling and aerosol characterisation products throughout Europe.
Serving the pharmaceutical and associated industries, Copley Scientific offers an extensive range of equipment for research, development and quality control, as well as full validation and aftersales services. This broad range of products is supplied and supported worldwide through a network of specialist distributors. www.copleyscientific.com