10 June 2008; Nottingham, UK: The new flowability tester BEP2 from Copley Scientific provides a range of options for testing pharmaceutical powders, using the methods described in the US and European Pharmacopoeias (USP Chapter <1174> and Ph.Eur. Chapter 2.9.36). Powder flow testing is an important issue in the industry as many materials are handled in powder form.
"Now that the USP and Ph.Eur chapters on powder flow are harmonised the industry has four well-defined methods for powder testing," said Mark Copley, Sales Manager for Copley Scientific. "The BEP2 offers three of these four methods – flow through an orifice, angle of repose and shear cell – in a single, cost effective unit."
The BEP2 is an easy to use, small footprint instrument with interchangeable cylinder, funnel, angle-of-repose and shear cell attachments. In addition to providing the test methods detailed in the harmonised pharmacopoeia chapters it is also suitable for flowability testing, as described in Ph.Eur chapter 2.9.16. An optional balance/timer simplifies time vs mass testing.
For compressibility index and Hausner ratio testing, the fourth specified methodology, Copley Scientific offers a series of tapped density testers and the bulk density tester (Scott Volumeter), detailed monographs for which feature in USP Chapter <616> and Ph.Eur. Chapter 2.9.15. www.copleyscientific.com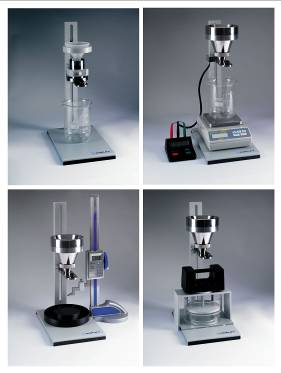 About Copley Scientific
Copley Scientific is recognised as the world's leading manufacturer of inhaler test equipment and is a major supplier of test equipment for pharmaceutical solid dosage forms, including tablet dissolution, disintegration, friability, hardness and powder testers.
The company has offices in the UK and Switzerland and a partnership with aerosol particle science experts MSP Corporation in the US. Copley's broad range of testing products for metered-dose inhalers, dry powder inhalers, nebulizers and nasal sprays are supplied and supported worldwide through close relationships with specialist distributors. Serving the pharmaceutical and associated industries, Copley offers an extensive range of equipment for research, production, clinical trials and quality control, as well as full validation and aftersales service, providing a single source for products that meet individual needs. www.copleyscientific.com