1 May 2013; Nottingham, UK: The new Dissofract, from Copley Scientific, is a compact stand alone unit for the automated sampling of tablet dissolution testing apparatus. It delivers minimal crosscontamination and short sampling times enabling accurate assessment of the dissolution profile of even fast release tablets. With a novel design based around the use of highly accurate bidirectional pumps Dissofract offers the additional advantages of low dead volume and First In/First Out (FIFO) operation enabling data matching with manual results.
The widespread use of tablets makes drug release or dissolution testing one of the most routinely applied analyses in the pharmaceutical industry. Manual dissolution testing is time-consuming and manually intensive, as well as potentially subject to significant error, creating a demand for automation accessories. The Dissofract automatically removes samples from six to eight dissolution vessels at predetermined intervals and deposits them in test tubes or vials for subsequent analysis. Innovative and effective it uses a series of bidirectional small volume diaphragm pumps (one line per vessel) to eliminate the problems associated with alternative designs centred on peristaltic or syringe pumps.
The bidirectional pumps that drive the flush-sample-purge functions within Dissofract are extremely accurate with a volumetric precision of <0.25 mL, typically around 0.1 mL. They deliver samples from the vessels on the FIFO principle employed in manual testing and provide a low dead volume system that keeps flush, sample and purge times to an absolute minimum. Flush media recycling eliminates any requirement for media replacement and simplifies dissolution calculations. Cross-contamination is typically <1%, even at the short, 2 minute, sample intervals required for quick release formulations, bringing new testing capability to the market.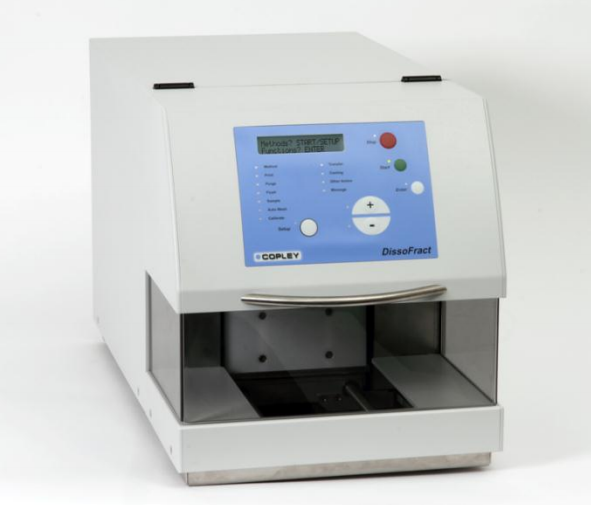 CAPTION: Copley Scientific's new Dissofract, an automated sampler for dissolution testing
About Copley Scientific
Copley Scientific is recognised as the world's leading manufacturer and supplier of inhaler test equipment and is a major provider of testing systems for other pharmaceutical dosage forms. The company is also active in detergent testing, air sampling and aerosol characterisation.
Copley Scientific's pharmaceutical product range includes test equipment for: delivered dose uniformity and aerodynamic particle size measurement of metered-dose inhalers, dry powder inhalers, nebulizers and nasal sprays; as well as tablets (dissolution, disintegration, friability and hardness) capsules, powders, suppositories and transdermals
Copley Scientific has offices in the UK and Switzerland. The company works in partnership with aerosol particle science experts MSP Corporation in North America, and also distributes MSP Corporation's air sampling and aerosol characterisation products throughout Europe.
Serving the pharmaceutical and associated industries, Copley Scientific offers an extensive range of equipment for research, development and quality control, as well as full validation and aftersales services. This broad range of products is supplied and supported worldwide through a network of specialist distributors. www.copleyscientific.com