7 July 2016, Nottingham, UK: Recent innovations from Copley Scientific include new tools for intrinsic dissolution testing and streamlined, smaller footprint tablet dissolution testers.
Stimulated by the company's programme of continuous improvement and driven by industrial requirements for lightweight, easy-to-use test equipment that occupies minimal space, these new developments further enhance Copley's extensive range of well-engineered, cost-efficient equipment for solid dosage testing.
During intrinsic dissolution testing, a defined area of the tablet is exposed to the dissolution media to eliminate the decreasing area effect associated with the dissolution of a fully exposed tablet. Copley's refreshed Intrinsic Dissolution Kit, which complies with USP Chapter <1087>, offers a fully integrated solution for this type of testing. It includes six or eight 7mm diameter punch and die sets and a robust hand-operated, 2-ton press for accurate and controlled compression of the required compact. The result is a rapidly and reliably prepared sample that is easily positioned in a standard USP Apparatus 1/2 type dissolution tester using the quick release, three-pronged spring assembly supplied.
Streamlining the physical dimensions of equipment reduces weight and associated shipping costs, as well as easing pressure on lab space. The new slim-line base plate for the company's range of dissolution testers minimises the bench space occupied by this core piece of test equipment, at the same time reducing unit weight whilst maintaining structural rigidity. Plans to extend these benefits to other products in the Copley tablet testing range are already underway. To find out more about the new developments go to www.copleyscientific.com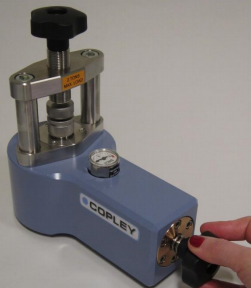 CAPTION: Enhanced Intrinsic Dissolution Kit
About Copley Scientific
Copley Scientific is recognised as the world's leading manufacturer and supplier of inhaler test equipment and is a major provider of testing systems for other pharmaceutical dosage forms. The company is also active in detergent testing, air sampling and aerosol characterisation.
Copley Scientific's pharmaceutical product range includes test equipment for delivered dose uniformity and aerodynamic particle size measurement of metered-dose inhalers, dry powder inhalers, nebulizers and nasal sprays; as well as tablets (dissolution, disintegration, friability and hardness) capsules, powders, suppositories and transdermals.
Copley Scientific has offices in the UK and Switzerland. The company works in partnership with aerosol particle science experts MSP Corporation in North America and also distributes MSP Corporation's air sampling and aerosol characterisation products throughout Europe.
Serving the pharmaceutical and associated industries, Copley Scientific offers an extensive range of equipment for research, development and quality control, as well as full validation and aftersales services. This broad range of products is supplied and supported worldwide through a network of specialist distributors.