3 July 2012; Nottingham, UK: The new version of 'Quality Solutions for Inhaler Testing' from Copley Scientific not only showcases the latest developments in inhaled product testing equipment but also provides practical guidance on achieving robust and reliable measurement and analysis. A 'go to' resource for expert advice that is rooted in the latest regulatory guidance and pharmacopoeial monographs, the new brochure includes details of a cluster of novel products designed to deliver better in vitro in vivo relationships (IVIVRs) for all orally inhaled and nasal drug products (OINDPs).
Beginning with a review of the role of different organisations, expert groups and regulatory authorities, 'Quality Solutions for Inhaler Testing' presents the Copley range of inhaled product testing equipment within the context of how it can be used to meet research, development and QC requirements. The new edition has been comprehensively revised, most noticeably to reflect an increased focus on achieving better IVIVRs. This is perceived by leading researchers as being critical for more effective inhaled product development.
Since the last edition of the brochure (2010), Copley have introduced a number of new tools for more representative testing, including: the Alberta Idealised Throat; breathing simulators for the testing of nebulisers and inhalers; and extensions to the abbreviated impactor measurement (AIM) range, which aids faster analysis. Other important innovations include the new Plume Temperature tester, which is used in the assessment of the 'Cold Freon' effect, induced by propellant driven inhalers, and a new super capacity vacuum pump, specified for use at the highest test flow rates when testing DPI.
To find out more download the brochure at www.copleyscientific.com or request your free copy by emailing sales@copleyscientific.co.uk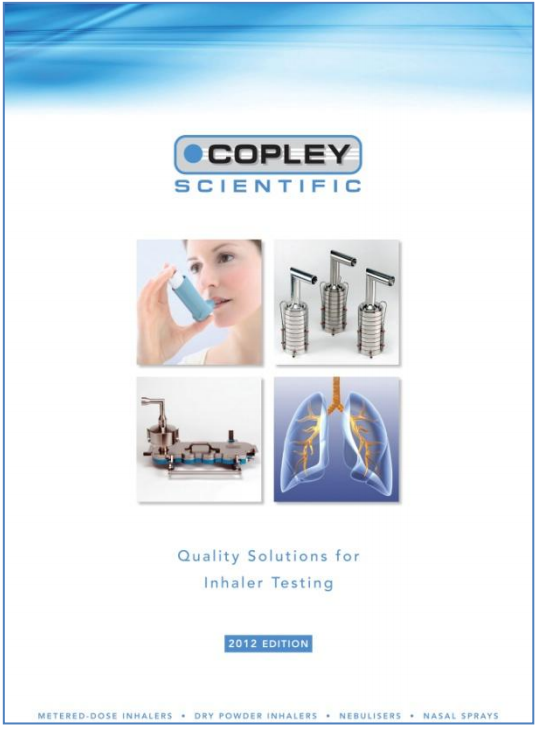 CAPTION: The new 'Quality Solutions for Inhaler Testing' from Copley Scientific
About Copley Scientific
Copley Scientific is recognised as the world's leading manufacturer and supplier of inhaler test equipment and is a major provider of testing systems for other pharmaceutical dosage forms. The company is also active in detergent testing, air sampling and aerosol characterisation.
Copley Scientific's pharmaceutical product range includes test equipment for: delivered dose uniformity and aerodynamic particle size measurement of metered-dose inhalers, dry powder inhalers, nebulizers and nasal sprays; as well as tablets (dissolution, disintegration, friability and hardness) capsules, powders, suppositories and transdermals.
Copley Scientific has offices in the UK and Switzerland. The company works in partnership with aerosol particle science experts MSP Corporation in North America, and also distributes MSP Corporation's air sampling and aerosol characterisation products throughout Europe.
Serving the pharmaceutical and associated industries, Copley Scientific offers an extensive range of equipment for research, development and quality control, as well as full validation and aftersales services.This broad range of products is supplied and supported worldwide through a network of specialist distributors. www.copleyscientific.com