13 July 2007; Nottingham, UK: Copley Scientific will exhibit the new Wide-Range Particle Spectrometer (WPS™) from MSP Corporation at the European Aerosol Conference, 9 – 14th September 2007, Salzburg (Austria). Copley Scientific is the exclusive European distributor for MSP Corporation, and a world leader in the manufacture of inhaler test equipment.
MSP Corporation has acknowledged expertise in the field of air sampling and particle analysis, and a cutting edge product range that includes, MOUDI cascade impactors, the Next Generation Pharmaceutical Impactor and the WPS. All these instruments will be on display at the conference. The Copley Scientific team will be on hand to provide advice on the products, and on the extensive range of instruments and accessories offered for inhaler testing.
The latest version of the highly successful WPS uses an electrical ioniser to neutralise particle charge prior to differential mobility analysis (DMA). This technological breakthrough eliminates the need for neutralisation by radioactive source. The WPS is the only commercially available spectrometer that combines DMA and condensation particle counting with laser light scattering in a single instrument, to deliver a measurement range of 5 nm to 10 microns.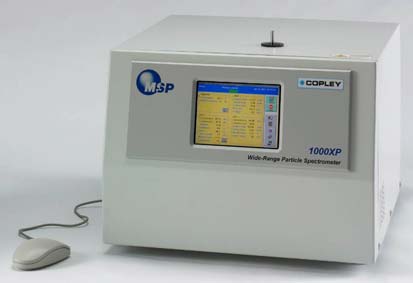 About Copley Scientific
Copley Scientific is recognised as the world's leading manufacturer of inhaler test equipment and is a major supplier of test equipment for pharmaceutical solid dosage forms, including tablet dissolution, disintegration, friability, hardness and powder testers.
The company has offices in the UK and Switzerland and a partnership with aerosol particle science experts MSP Corporation in the US. Copley's broad range of testing products for metered-dose inhalers, dry powder inhalers, nebulizers and nasal sprays are supplied and supported worldwide through close relationships with specialist distributors. Serving the pharmaceutical and associated industries, Copley offers an extensive range of equipment for research, production, clinical trials and quality control, as well as full validation and aftersales service, providing a single source for products that meet individual needs. www.copleyscientific.com