29 January 2007; Nottingham, UK: Mark Copley, technical sales manager for Copley Scientific, will lead an interactive workshop on 'Process improvements and troubleshooting for cascade impactor testing' at RDD Europe 2007 (April 17 – 20, Paris, France). The focus of the session will be practical methods for increasing productivity and reducing variability – key issues for impactor testing within the pharmaceutical industry. Copley Scientific is recognised as the world's leading manufacturer of inhaler test equipment, with extensive experience in the application and use of cascade impactors. Workshop numbers are limited and demand is expected to be high following the success of Mark's presentation at RDD Europe 2005.
The rapid pace of development of inhalers; topical, systemic and generic, is intensifying pressure on testing processes. This workshop will present ways to improve testing efficiency. The focus will be on pharmacopeial methodologies and the use of both the Andersen cascade and Next Generation Pharmaceutical impactors, in combination with test systems for aerodynamic particle size analysis. It will be valuable for both R&D and QC personnel involved with the in vitro testing of metered dose and dry powder inhalers, nebulizers and nasal sprays.
RDD Europe 2007 is a significant conference for respiratory drug delivery researchers, offering the community an opportunity to discuss new research methods and view the latest advances in industry-related equipment. Copley Scientific Ltd will be exhibiting throughout the event. To find out more or register for the workshop visit www.rddonline.com.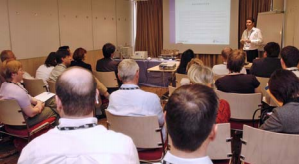 CAPTION: Copley Scientific's highly successful 2005 workshop
About Copley Scientific
Copley Scientific is a major provider of test equipment for pharmaceutical solid dosage forms, including tablet dissolution, disintegration, friability, hardness and powder testers, and is recognised as the world's leading manufacturer of inhaler test equipment. The company has offices in the UK and Switzerland and a partnership with aerosol particle science experts MSP Corporation in the US. Copley's broad range of testing products for metered-dose inhalers, dry powder inhalers, nebulizers and nasal sprays are supplied and supported worldwide through close relationships with specialist distributors. Serving the pharmaceutical and associated industries, Copley offers an extensive range of equipment for research, production, clinical trials and quality control, as well as full validation and aftersales service, providing a single source for products that meet individual needs. www.copleyscientific.com