18 December 2012; Nottingham, UK: Copley Scientific has enhanced its offering for the validation and qualification of inhaler testing equipment, supporting the pharmaceutical industry's continued requirement for rigorous standards and data integrity. A new Flow-Time Verification kit introduces a novel, non-invasive verification method for flow control apparatus used when testing Dry Powder Inhalers (DPIs) , while a streamlined set of qualification kits provides the comprehensive tools necessary to meet rigorous IQ/OQ procedures. Uniquely focusing on the entire inhaler test set-up, rather than individual components, Copley Scientific ensures a robust dose uniformity and aerodynamic particle sizing system.
All Copley Scientific IQ/OQ (and in some cases PQ) documentation is written to demanding GxP standards, ensuring conformance with industry expectations. Qualification test kits include measurement tools calibrated to UKAS traceable standards, with comprehensive instructions, connectors and fittings to allow qualification of dose uniformity apparatus, critical flow controllers, cascade impactors, pumps and flow meters.
The new Flow-Time Verification kit provides an easy-to-use, non-invasive solution for verifying the test duration of critical flow controllers which are used to ensure that flow-sensitive, passive DPIs are tested in an accurate and reproducible manner, as required by USP and Ph.Eur. With a highly responsive pressure sensor, this kit determines flow duration automatically, replacing manually operated stopwatches or invasive techniques, significantly improving the accuracy and reproducibility of test results.
In combination these solutions streamline IQ/OQ/PQ procedures in a highly cost efficient way. As experts in inhaled product testing, Copley Scientific is always pleased to advise on the most appropriate qualification approach. Please visit www.copleyscientific.com for more information.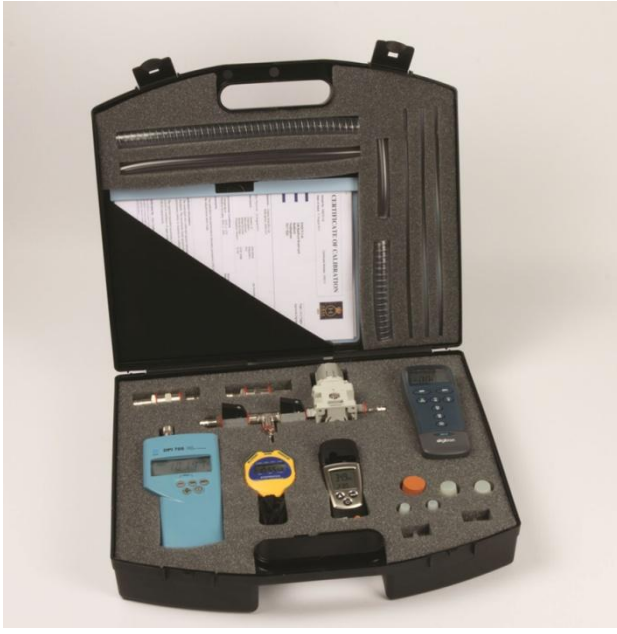 CAPTION: Inhaler Testing Qualification Took Kit
About Copley Scientific
Copley Scientific is recognised as the world's leading manufacturer and supplier of inhaler test equipment and is a major provider of testing systems for other pharmaceutical dosage forms. The company is also active in detergent testing, air sampling and aerosol characterisation.
Copley Scientific's pharmaceutical product range includes test equipment for: delivered dose uniformity and aerodynamic particle size measurement of metered-dose inhalers, dry powder inhalers, nebulizers and nasal sprays; as well as tablets (dissolution, disintegration, friability and hardness) capsules, powders, suppositories and transdermals.
Copley Scientific has offices in the UK and Switzerland. The company works in partnership with aerosol particle science experts MSP Corporation in North America, and also distributes MSP Corporation's air sampling and aerosol characterisation products throughout Europe.
Serving the pharmaceutical and associated industries, Copley Scientific offers an extensive range of equipment for research, development and quality control, as well as full validation and aftersales services. This broad range of products is supplied and supported worldwide through a network of specialist distributors. www.copleyscientific.com