9 October 2014; Nottingham UK: Copley Scientific has launched a new website that provides comprehensive guidance on all aspects of inhaler and pharmaceutical testing. Inviting, informationrich and incorporating the company's first video content, the new site allows visitors to easily access expert advice on how to test pharmaceutical products in line with regulatory guidance and the pharmacopoeial monographs. To visit the new site go to: www.copleyscientific.com
The information and products showcased on the new site reflect Copley Scientific's position as a global leader in the development and supply of inhaled product testing equipment. The extensive range for metered dose inhalers (MDIs), dry powder inhalers (DPIs), nebulisers and nasal sprays includes all the apparatus specified in the pharmacopoeias for both innovator and generic products. Product information is complemented by a substantial literature archive that provides detailed guidance on how testing can be optimally implemented from R&D through to QC. Freely available downloads include articles, white papers and the 'Quality solutions for inhaler testing' brochure, a widely used primer for inhaler testing.
The company's products for testing oral solid dosage forms and other pharmaceuticals are also covered in equal detail. These include well-engineered, robust and cost effective solutions for testing tablets and capsules, suppositories, transdermals, powders, creams and ointments in accordance with regulatory requirements. Literature support explains optimal strategies for application of the equipment and includes the 'Quality Solutions for the Testing of Pharmaceutical' brochure, which is especially useful for researchers new to the pharmaceutical industry.
The new video gives a unique insight into Copley Scientific, highlighting the standards applied to every company activity, from the quality by design approach adopted in new product development, through to exemplary after sales and servicing support.
Visit the new website at: www.copleyscientific.com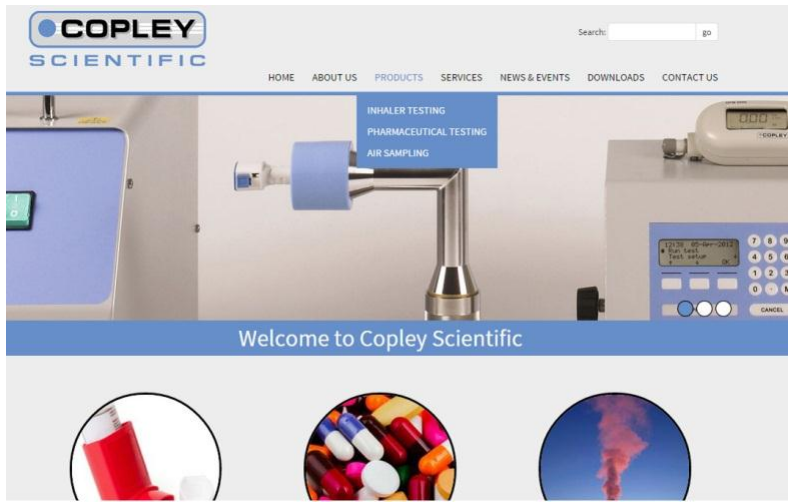 CAPTION: Copley Scientific's new website provides comprehensive guidance on all aspects of inhaler and pharmaceutical testing
About Copley Scientific
Copley Scientific is recognised as the world's leading manufacturer and supplier of inhaler test equipment and is a major provider of testing systems for other pharmaceutical dosage forms. The company is also active in detergent testing, air sampling and aerosol characterisation.
Copley Scientific's pharmaceutical product range includes test equipment for: delivered dose uniformity and aerodynamic particle size measurement of metered-dose inhalers, dry powder inhalers, nebulizers and nasal sprays; as well as tablets (dissolution, disintegration, friability and hardness) capsules, powders, suppositories and transdermals.
Copley Scientific has offices in the UK and Switzerland. The company works in partnership with aerosol particle science experts MSP Corporation in North America, and also distributes MSP Corporation's air sampling and aerosol characterisation products throughout Europe.
Serving the pharmaceutical and associated industries, Copley Scientific offers an extensive range of equipment for research, development and quality control, as well as full validation and aftersales services. This broad range of products is supplied and supported worldwide through a network of specialist distributors. www.copleyscientific.com