26 February 2013; Nottingham, UK:Copley Scientific's Swiss office is currently celebrating its tenth highly successful year of providing expert sales and technical support to customers across Europe. Based in Therwil, the office delivers high quality, local language services to France, Germany, Italy, Austria and Switzerland. Copley Scientific, a global provider of pharmaceutical product testing equipment, established the office to ensure the very highest levels of care in this vital region for pharmaceutical research, development and manufacture, and has since seen demand grow steadily.
"We are excited to have reached this milestone and are very proud to see continued growth in demand," said Thomas Lanz, CEO of the Swiss office, "Feedback suggests that beyond the 'local' aspect and swift response times, customers particularly value our ability to efficiently calibrate Copley Scientific products. This service extends to the IQ/OQ of inhaler and tablet testing systems and PQ of tablet dissolution testers, including those of other manufacturers".
Copley Scientific delivers exemplary levels of customer support across the globe, providing lifetime care, educative advice and both in-house and on-site services to maximise the productivity of all testing equipment. The company's highly trained engineers and technicians are well versed in all aspects of calibration and qualification, allowing them to offer efficient calibration services to GxP standards. In central Europe these services are delivered via the Swiss office which has built a reputation for rapid response times and highly reliable work. www.copleyscientific.com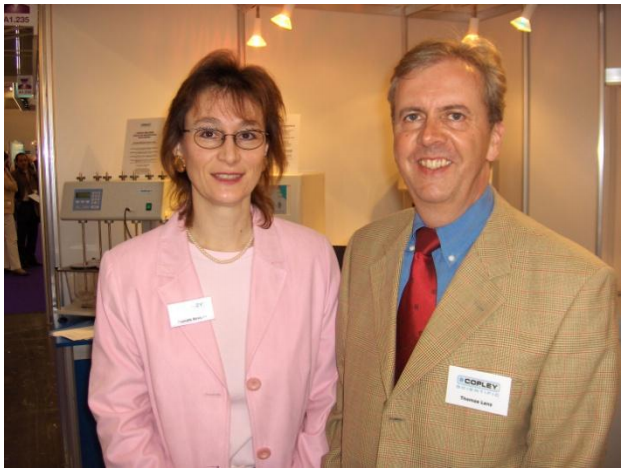 CAPTION: Thomas Lanz, CEO (right) and Pascale Boeglin, Service Manager (left) at Copley Scientific's Swiss office
About Copley Scientific
Copley Scientific is recognised as the world's leading manufacturer and supplier of inhaler test equipment and is a major provider of testing systems for other pharmaceutical dosage forms. The company is also active in detergent testing, air sampling and aerosol characterisation.
Copley Scientific's pharmaceutical product range includes test equipment for: delivered dose uniformity and aerodynamic particle size measurement of metered-dose inhalers, dry powder inhalers, nebulizers and nasal sprays; as well as tablets (dissolution, disintegration, friability and hardness) capsules, powders, suppositories and transdermals.
Copley Scientific has offices in the UK and Switzerland. The company works in partnership with aerosol particle science experts MSP Corporation in North America, and also distributes MSP Corporation's air sampling and aerosol characterisation products throughout Europe.
Serving the pharmaceutical and associated industries, Copley Scientific offers an extensive range of equipment for research, development and quality control, as well as full validation and aftersales services. This broad range of products is supplied and supported worldwide through a network of specialist distributors. www.copleyscientific.com