23 May 2023; Nottingham, UK: Copley Scientific, a major provider of pharmaceutical testing systems with world-renowned expertise in the field of orally inhaled and nasal drug products (OINDPs), has appointed a new Applications Specialist to maintain a customer-centric focus as growth continues. Dr Clair Brooks is a seasoned life sciences professional with a track record of delivering in-field support for a leading molecular diagnostics company. Her primary focus at Copley will be to help customers optimise equipment use – whatever challenges they face – ensuring they generate robust, reliable data and maximise their return on investment.  
"The role of Applications Specialist is extremely important for us," said Mr Jamie Clayton, Managing Director, Copley, "so filling it with such a great addition to our team makes this an exciting step. Copley's success is built on industry leading knowledge developed over decades by a dedicated team. Growth affords us the luxury of greater specialism, and the ability to add expertise and focus in areas of key importance. Understanding the evolving requirements of the pharmaceutical industry and providing our customers with the tools to meet them is paramount. This appointment will add to our existing capabilities to do that."
With an academic background in biochemistry and microbiology, Clair joins fresh from supporting the start-up and operation of heavily regulated testing labs. As an in-field Applications Specialist her day-to-day work involved interfacing with expert scientists, helping to ensure regulatory compliance, and troubleshooting problems to tight timescales. This experience makes Clair perfectly placed to become the in-house expert on how best to use Copley products to support pharmaceutical development and manufacture. Key elements of her role include providing in-depth applications support across the complete Copley portfolio, delivering comprehensive user training – both onsite and at Copley HQ – and representing the needs of the customer in-house.
"We're committed to ensuring customers find Copley easy and rewarding to work with and I'm confident that Clair will play an important role in delivering on that commitment," continued Jamie. "I look forward to seeing her champion the customer perspective across our activities."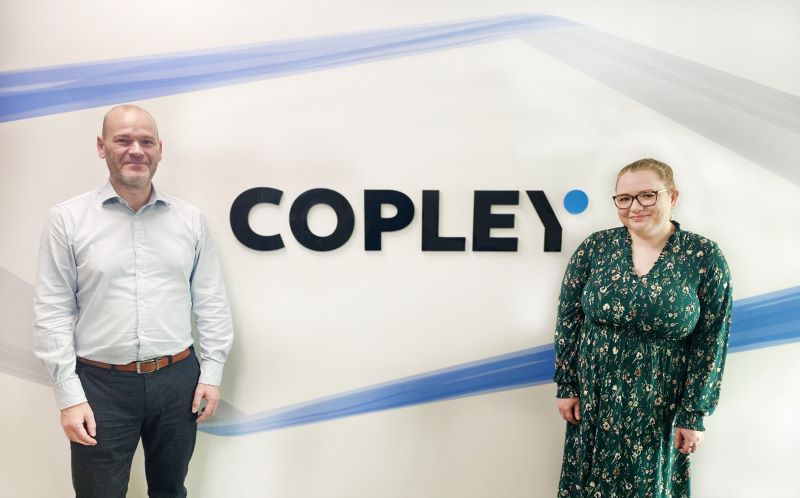 Mr Jamie Clayton, Managing Director, welcomes Dr Clair Brooks as Applications Specialist to Copley
About Copley Scientific
Copley Scientific is widely recognised as the world's leading manufacturer and supplier of inhaler test equipment and is a major provider of testing systems for other pharmaceutical dosage forms. The company also supplies equipment for detergent testing.
Copley's pharmaceutical product range includes test equipment for all types of orally inhaled and nasal drug products – metered-dose inhalers, dry powder inhalers, nebulisers and nasal sprays – with a particular focus on solutions for delivered dose uniformity and aerodynamic particle size distribution measurement. It also includes testers for tablets (dissolution, disintegration, friability and hardness) capsules, powders, suppositories, semisolids and transdermals.
Used from R&D through to QC, this extensive range of equipment is supported by a full validation and aftersales service. Copley works in partnership with specialist distributors, extending localised support across the world. This network provides expert help and training to every customer, directly enhancing the application of all Copley products. www.copleyscientific.com