8th February 2023; Nottingham, UK: The DUSA Shaker™ DTS 100i is a new semi-automation solution from Copley Scientific, the global leader in inhaler and nasal drug product testing equipment, that supports quicker, more efficient, regulatory and compendial delivered dose uniformity (DDU) testing. A fully updated version of the original Copley DUSA Shaker, it provides full, fast, repeatable rinsing for Dose Uniformity Sampling Apparatus (DUSA) for metered dose inhalers (MDIs) and dry powder inhalers (DPIs). Benefiting from Copley's unrivalled understanding of inhaler testing, the robustly engineered DTS 100i accelerates timelines, increases repeatability and accuracy, and releases analysts for higher value work.
DDU testing confirms the consistency of dose delivery across the lifetime of an individual inhaler and across each batch of product. A key step is rinsing the DUSA to recover a delivered dose. This process can be carried out manually, but an automated approach is better from the perspective of ensuring full recovery, health and safety, and efficiency.
The DTS 100i is a modular solution that will slot easily into any existing set-up or workflow and a perfect low-cost, introduction to the benefits of semi-automation. The original DUSA Shaker has been used in busy inhaler testing labs across the world for over a decade; the comprehensively re-engineered and updated DTS 100i offers:
Up to 10 times quicker drug recovery, compared with manual practice
An intuitive touchscreen interface for easy operation
An optimised lateral shaking and/or rotating motion for repeatable, complete rinsing
The flexibility to handle full or partial loads
Adjustable lateral shaking speed in the range 20 – 200 rpm
Extensive data reporting options
Find out more about how the DTS 100i could improve your inhaler testing practice here.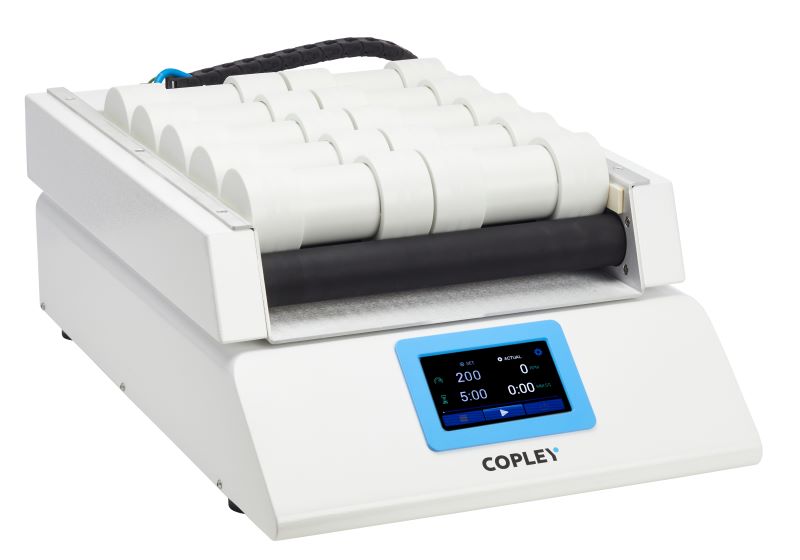 The new DUSA Shaker™ DTS 100i from Copley automates the internal rinsing of both MDI and DPI DUSA collection tubes for complete, reproducible drug recovery
About Copley Scientific
Copley Scientific is widely recognised as the world's leading manufacturer and supplier of inhaler test equipment and is a major provider of testing systems for other pharmaceutical dosage forms. The company also supplies equipment for detergent testing.
Copley's pharmaceutical product range includes test equipment for all types of orally inhaled and nasal drug products – metered-dose inhalers, dry powder inhalers, nebulisers and nasal sprays – with a particular focus on solutions for delivered dose uniformity and aerodynamic particle size distribution measurement. It also includes testers for tablets (dissolution, disintegration, friability and hardness) capsules, powders, suppositories, semisolids and transdermals.
Used from R&D through to QC, this extensive range of equipment is supported by a full validation and aftersales service. Copley works in partnership with specialist distributors, extending localised support across the world. This network provides expert help and training to every customer, directly enhancing the application of all Copley products. www.copleyscientific.com