14 April 2011; Nottingham, UK: Respiratory Drug Delivery (RDD) Europe 2011 (3-6 May, Berlin Germany) presents an opportunity to view the very latest equipment from Copley Scientific: inhaled product testing instruments that reduce the burden of analysis and potentially improve in vitro – in vivo correlation. On display will be Abbreviated Impactor Measurement (AIM) tools – the Fast Screening Andersen (FSA) and Fast Screening Impactor (FSI) – and the new Alberta Idealized Throat, an innovative accessory that enables more representative testing.
With the IPAC-RS satellite conference: "Perspectives on effective data analysis and abbreviated impactor measurement as quality assessment tools" and a podium theme of "Novel in vitro and in vivo test methods", RDD will provide a forum for continued debate on how inhaled product testing should evolve. The industry is actively considering how to refine test methods to more precisely reflect in vivo behaviour and at the same time improve testing efficiency in R&D and QC laboratories.
AIM tools measure the defining parameters of aerodynamic particle size distribution (APSD) by splitting the delivered dose from an inhaler into just two (or possibly three) fractions rather than the seven or more generated during multistage cascade impaction, which is the current regulatory method for APSD measurement for all inhaled products. This approach can lead to more efficient data analysis and is of significant interest in a QbD environment. Of particular interest for streamlined testing during R&D is the Human Respiratory Tract (HRT) configuration of the FSI, coupled with the new Alberta Idealized Throat, in place of the standard USP induction port. This configuration potentially offers the most precise and representative inhaled product testing, with reduced analytical resources.
To find out more and debate the relative merits of different test equipment with the leaders in the field – visit the Copley Scientific stand. www.copleyscientific.com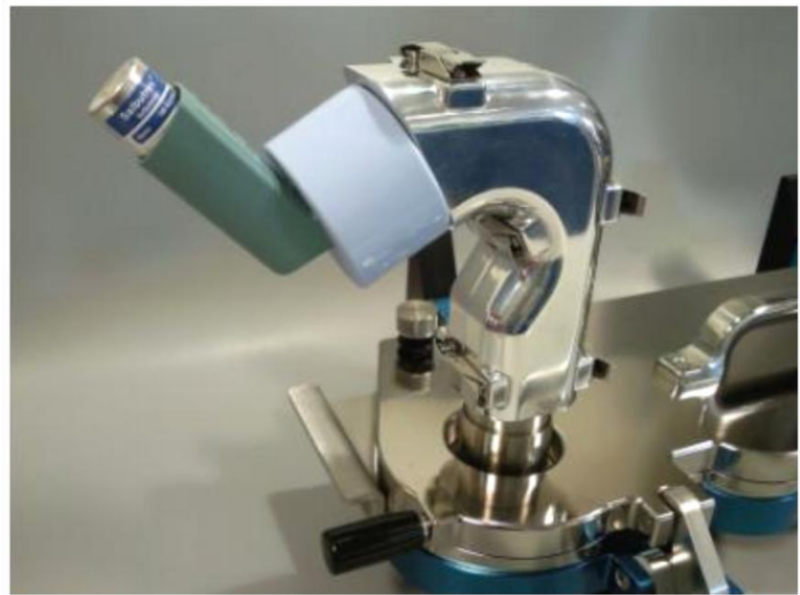 CAPTION: The Alberta Throat from Copley Scientific
About Copley Scientific
Copley Scientific is recognised as the world's leading manufacturer and supplier of inhaler test equipment and is a major provider of testing systems for other pharmaceutical dosage forms. The company is also active in detergent testing, air sampling and aerosol characterisation.
Copley Scientific's pharmaceutical product range includes test equipment for: delivered dose uniformity and aerodynamic particle size measurement of metered-dose inhalers, dry powder inhalers, nebulizers and nasal sprays; as well as tablets (dissolution, disintegration, friability and hardness) capsules, powders, suppositories and transdermals.
Copley Scientific has offices in the UK and Switzerland. The company works in partnership with aerosol particle science experts MSP Corporation in North America, and also distributes MSP Corporation's air sampling and aerosol characterisation products throughout Europe.
Serving the pharmaceutical and associated industries, Copley Scientific offers an extensive range of equipment for research, development and quality control, as well as full validation and aftersales services. This broad range of products is supplied and supported worldwide through a network of specialist distributors. www.copleyscientific.com