11 September 2014; Nottingham, UK: Mark Copley, Sales Director for Copley Scientific, will use his invite to speak at Inhalation Drug Delivery (China) Scientific Conference 2014 to discuss test methods for generic inhaled products. The conference runs from 17-19 October 2014 at Nanjing University of Chinese Medicine Conference Center. It will be attended by leading academic and industrial researchers from across China.
"I'm grateful to the Inhaled Drug Delivery Association (IDDA) for the opportunity to contribute to this important conference" said Mark Copley. "This event highlights increasing levels of R&D activity in the area of inhaled drug development, across China. The country's growing need for cost-effective treatments for pulmonary diseases such as asthma and COPD is stimulating the rapid development of the orally inhaled and nasal drug product (OINDP) market. The development of generic products is particularly important."
Mark Copley's presentation is entitled 'IVIVC (in-vitro in-vivo correlation) study of generic inhalation drugs'. It focuses on ways to improve the relationship between in-vitro test data, results measured in the lab, and in-vivo performance, the behaviour of the drug in the body. Secure IVIVCs accelerate the development of both new and generic orally inhaled products (OIPs). They also help to reduce the risk and costs associated with unexpected outcomes in clinical trials. In generic OIP development strong IVIVCs are vital for the efficient demonstration of bioequivalence. This critical step involves demonstrating that the clinical efficacy of a generic product will be identical to that of an innovator. Inhalation Drug Delivery (China) 2014 is being organised by the IDDA, the China Pharmaceutical Industry Information Center, and Nanjing University of Chinese Medicine. IDDA is a non-profit organization that aims to promote the progress of the inhalation drug industry in China.
For more information on the event, please visit: http://www.pharmadl.com/pharmadl/%E4%BC%9A%E8%AE%AE%E5%AE%A3%E4%BC%A0/xrzjhtml/index1.html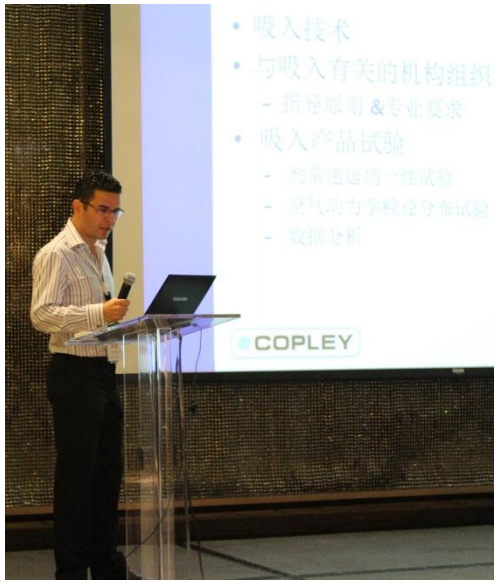 CAPTION: Mark Copley will present on testing generic products at Inhalation Drug Delivery (China) Scientific Conference 2014
About Copley Scientific
Copley Scientific is recognised as the world's leading manufacturer and supplier of inhaler test equipment and is a major provider of testing systems for other pharmaceutical dosage forms. The company is also active in detergent testing, air sampling and aerosol characterisation.
Copley Scientific's pharmaceutical product range includes test equipment for: delivered dose uniformity and aerodynamic particle size measurement of metered-dose inhalers, dry powder inhalers, nebulizers and nasal sprays; as well as tablets (dissolution, disintegration, friability and hardness) capsules, powders, suppositories and transdermals.
Copley Scientific has offices in the UK and Switzerland. The company works in partnership with aerosol particle science experts MSP Corporation in North America, and also distributes MSP Corporation's air sampling and aerosol characterisation products throughout Europe.
Serving the pharmaceutical and associated industries, Copley Scientific offers an extensive range of equipment for research, development and quality control, as well as full validation and aftersales services. This broad range of products is supplied and supported worldwide through a network of specialist distributors. www.copleyscientific.com