27 September 2012; Nottingham, UK: Copley Scientific has launched the Plume Temperature Tester PTT 1000, a high precision instrument for measuring the plume temperature of Metered-Dose Inhalers (MDIs) and nasal sprays. The PTT 1000 is the first instrument on the market that can reliably measure plume temperature during dose delivery, to support determination of the 'cold freon' effect – the chilling sensation that inhaler users often experience. Since this effect can directly impact the consistency and efficiency of drug delivery, the new tester is particularly useful for those seeking to demonstrate therapeutic equivalence or to develop softer, warmer plumes with improved patient compliance rates.
The widely recognised 'cold freon' effect is due to the high velocity blast and subsequent evaporation of liquid propellant that impact the back of the user's throat during drug delivery. Since the effect is a function of both aerosol spray force and plume temperature, Copley Scientific offers the PTT 1000 alongside the Spray Force Tester 1000, an instrument that measures the impaction force of delivery. Together these provide a combined solution for complete quantification.
In certain instances the 'cold freon' effect can result in the patient aborting the inhalation process and is therefore a significant cause of inconsistent drug delivery. As a result, this effect is specifically given as an example of a criteria that might be required to substantiate in vitro therapeutic equivalence in EMA guidelines for orally inhaled products (OIP) (January 2009).
With an internal geometry identical to that of the standard USP induction port used for all orally inhaled product testing, the PTT 1000 incorporates a series of four thermocouples that measure a precise temperature profile of the plume at different distances from the actuator. A data acquisition system under the control of an associated PC ensures efficient data capture and display, and the thermocouples are easily removed for cleaning. The new tester can be directly connected to a Waste Shot collector or Dose Uniformity Sampling Apparatus for streamlined integration within existing test set-ups.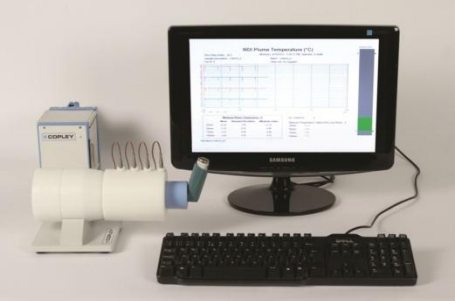 CAPTION: Plume Temperature Tester PTT 1000
About Copley Scientific
Copley Scientific is recognised as the world's leading manufacturer and supplier of inhaler test equipment and is a major provider of testing systems for other pharmaceutical dosage forms. The company is also active in detergent testing, air sampling and aerosol characterisation.
Copley Scientific's pharmaceutical product range includes test equipment for: delivered dose uniformity and aerodynamic particle size measurement of metered-dose inhalers, dry powder inhalers, nebulizers and nasal sprays; as well as tablets (dissolution, disintegration, friability and hardness) capsules, powders, suppositories and transdermals.
Copley Scientific has offices in the UK and Switzerland. The company works in partnership with aerosol particle science experts MSP Corporation in North America, and also distributes MSP Corporation's air sampling and aerosol characterisation products throughout Europe.
Serving the pharmaceutical and associated industries, Copley Scientific offers an extensive range of equipment for research, development and quality control, as well as full validation and aftersales services. This broad range of products is supplied and supported worldwide through a network of specialist distributors. www.copleyscientific.com