29 April 2009; Nottingham, UK: The new NGI Cooler from Copley Scientific is a practical, easy to use system that improves the accuracy and reproducibility of inhaler product testing for solution-based devices such as nebulisers.
New pharmacopoeia monographs for nebuliser testing recommend using the Next Generation Pharmaceutical Impactor (NGI) for droplet size analysis. They also highlight the issue of evaporative loss, which may result in artificially low particle size measurements. The new system's rapid cooling action and ability to maintain stable temperatures throughout the test help avoid this problem.
Cascade impaction measures aerodynamic particle or droplet size, a key parameter for all inhaled products that ensures product consistency and broadly indicates deposition behaviour within the respiratory system. For devices such as nebulisers, which deliver the active ingredient as an aerosolised solution, evaporation during testing, caused by impactor related heat transfer, is an issue. Loss of solvent reduces droplet size, producing artificially low particle size measurements and compromising accurate characterisation of the device. Cooling the impactor to approximately 5°C is one of the most common ways around this problem.
The NGI cooler comfortably accommodates the NGI, either closed or open, allowing testing in a temperature controlled environment. Rapid cooling ensures that test temperatures, user adjustable to as low as 3°C, are reached in less than 5 minutes; temperature stability is to within +/-1.5°C. Large front and rear opening doors allow for easy access, with special access ports for the externally mounted device and pump tubing.
For further information please visit www.copleyscientific.com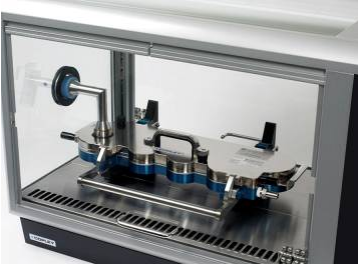 CAPTION: The NGI enclosed in the NGI Cooler
About Copley Scientific
Copley Scientific is recognised as the world's leading manufacturer of inhaler test equipment and is a major supplier of test equipment for pharmaceutical solid dosage forms, including tablet dissolution, disintegration, friability, hardness and powder testers. The company has offices in the UK and Switzerland and a partnership with aerosol particle science experts MSP Corporation in the US. Copley's broad range of testing products for metered-dose inhalers, dry powder inhalers, nebulizers and nasal sprays are supplied and supported worldwide through close relationships with specialist distributors. Serving the pharmaceutical and associated industries, Copley offers an extensive range of equipment for research, development and quality control, as well as full validation and aftersales service, providing a single source for products that meet individual needs. www.copleyscientific.com