2 February 2016; Nottingham, UK: The latest version of 'Quality Solutions for the Testing of Pharmaceuticals' from Copley Scientific provides detailed information for those seeking assistance with the interpretation and application of regulatory guidance, as well as highlighting new additions to the company's extensive range. Considered a 'go-to' resource for expert advice that is rooted in current regulatory guidance and pharmacopoeial chapters, the brand new brochure can be freely downloaded from the Copley website – www.copleyscientific.com, with printed versions available on request from sales@copleyscientific.co.uk.
The 2016 brochure covers the latest international requirements for testing the safety, quality and efficacy of transdermals, powders and granules, tablets and capsules, suppositories, creams and ointments, presenting the Copley range equipment within the context of how it can be used to efficiently gather essential data to meet research, development and QC needs. The latest edition has been comprehensively revised; most notably to reflect an increased focus on semisolids testing equipment for creams, ointments and gels for topical use.
Among the new tools making their debut in the 2016 brochure are two Vertical Diffusion Cells (VDCs) for the accurate and reproducible in vitro drug release testing of topical semisolid dosage forms, in accordance with the recently updated USP chapter <1724>. These are complemented by the Vertical Diffusion Cell Test System Model HDT 1000; a compact unit which comprises of 10 test stations and enables the precise control of test conditions. The refreshed offering for semisolids is completed by the new Vacuum Deaeration Apparatus, which provides de-gassed media, maintained at the required temperature, to improve the accuracy of drug release measurements.
Mark Copley, Sales Director of Copley Scientific, comments, "The brochure is an important element of the support that we provide to our customers as they strive to develop new pharmaceutical products and ensure ongoing manufacturing consistency, efficacy and safety. Our latest version exemplifies this approach, combining up to date regulatory guidance and essential industry information with the latest product innovations to meet our customers' needs. Here at Copley, we place strong emphasis on developing high quality, durable equipment, manufactured in the UK and supported with education and training that help to maximise value. As pharmaceutical testing requirements continue to evolve, feedback suggests that both new and experienced scientists in the field find our brochure a useful and valuable source of information."
To find out more about these products and the rest of Copley Scientific range, download the brochure at www.copleyscientific.com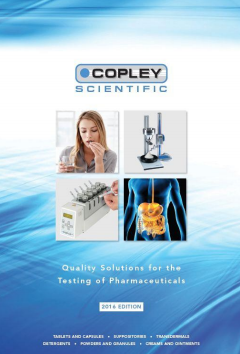 CAPTION: Copley Scientific showcases their upgraded solids dosage range via the latest version of 'Quality Solutions for the Testing of Pharmaceuticals' brochure
About Copley Scientific
Copley Scientific is recognised as the world's leading manufacturer and supplier of inhaler test equipment and is a major provider of testing systems for other pharmaceutical dosage forms. The company is also active in detergent testing, air sampling and aerosol characterisation.
Copley Scientific's pharmaceutical product range includes test equipment for delivered dose uniformity and aerodynamic particle size measurement of metered-dose inhalers, dry powder inhalers, nebulizers and nasal sprays; as well as tablets (dissolution, disintegration, friability and hardness) capsules, powders, suppositories and transdermals.
Copley Scientific has offices in the UK and Switzerland. The company works in partnership with aerosol particle science experts MSP Corporation in North America and also distributes MSP Corporation's air sampling and aerosol characterisation products throughout Europe.
Serving the pharmaceutical and associated industries, Copley Scientific offers an extensive range of equipment for research, development and quality control, as well as full validation and aftersales services. This broad range of products is supplied and supported worldwide through a network of specialist distributors