14 January 2021; Nottingham, UK: Copley Scientific is now delivering e-Training, offering customers across the globe remote access to expert tuition on in vitro test methods for pharmaceutical dosage forms, notably for orally inhaled and nasal drug products (OINDPs). Customers can choose from a range of standard training packages or specify a bespoke session, with reliable, professional, live-streaming ensuring a high quality, interactive experience. Sessions on Installation Qualification and Operational Qualification (IQ/OQ) help customers to get new systems up and running while application-specific training ensures best practice.
"Over the years we've welcomed many customers to Copley HQ for training, and we know that service is highly valued," said Anna Sipitanou, Business Development Manager for Copley. "The global pandemic has rapidly brought about new ways of working for many of us. By establishing e-Training we can now offer expert input even when traditional visits aren't practical. Going forward e-Training will mean greater flexibility, a choice between a visit or in-house learning, to suit individual requirements."
Copley, the world's leading manufacturer and supplier of inhaler test equipment, is particularly well-known for training in the complex area of in vitro OINDP testing. Expert advice helps customers to fully utilise the company's comprehensive range of OINDP test equipment and enhance the clinical relevance of in vitro data. However, the e-Training offering is extensive and also available for:
testing of multiple pharmaceutical dosage forms including oral solid dosage, semi-solids, and suppositories
a wide range of applications and test methods
installation qualification/operational qualification (IQ/OQ) requirements; the validation processes required to bring new equipment into routine use.
Completion is certified for all courses.
"Nothing should stop people efficiently validating their new equipment or accessing the training they need to get the most out of our products," said Anna Sipitanou. "I'm delighted to have the e-Training service established and the team is looking forward to delivering the first sessions."
Contact sales@copleyscientific.co.uk to arrange your e-Training session.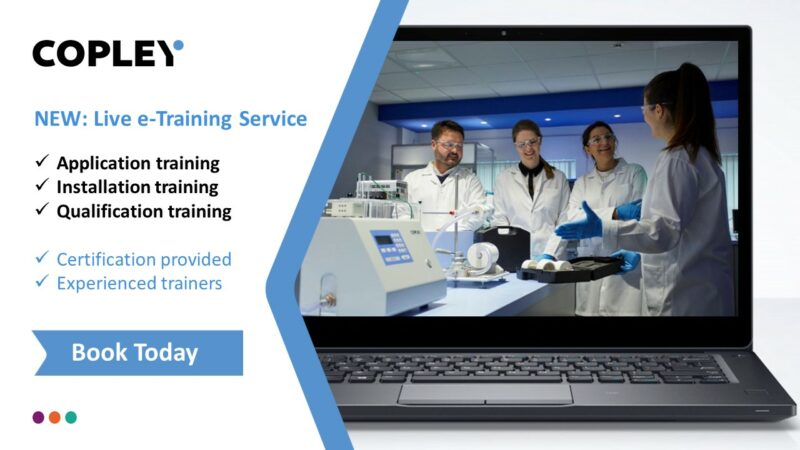 CAPTION: Copley Scientific extends their training service options to include e-Training
ENDS
About Copley Scientific
Copley Scientific is widely recognised as the world's leading manufacturer and supplier of inhaler test equipment and is a major provider of testing systems for other pharmaceutical dosage forms. The company also supplies equipment for detergent testing.
Copley's pharmaceutical product range includes test equipment for all types of orally inhaled and nasal drug products – metered-dose inhalers, dry powder inhalers, nebulisers and nasal sprays – with a particular focus on solutions for delivered dose uniformity and aerodynamic particle size distribution measurement. It also includes testers for tablets (dissolution, disintegration, friability and hardness), capsules, powders, suppositories, semisolids and transdermals.
Used from R&D through to QC, this extensive range of equipment is supported by a full validation and aftersales service. Copley Scientific has offices in the UK and Switzerland and works in partnership with aerosol particle science experts MSP Corporation in North America; specialist distributors extend localised support across the world. This network provides expert help and training to every customer, directly enhancing the application of all Copley products. www.copleyscientific.com