5 March 2008; Nottingham, UK: The new Friabimat SA-400 from Copley Scientific uniquely delivers friability testing for even the hardest, most robust solid dosage forms. Its use is detailed in Chap 2.9.41 (Method B) of the European Pharmacopoeia, which came into effect on 1 January 2008. With tests taking an average of just 2 to 4 minutes, the system is suitable for both QC and research applications.
For some hard coated and uncoated tablets, granules and spheroids, it is impossible to determine friability using conventional drum testers, even with significantly extended test times. The Friabimat SA-400, a small footprint unit originally designed for testing granules and pellets, is ideal for such materials.
Sample is shaken within a glass vessel, in the horizontal plane, by means of an oscillating arm that operates at a defined rate. Particles rub against and collide with one another and/or the vessel walls, causing friability and abrasion. Varying the speed, in the range 0–400 oscillations per minute, controls abrasion intensity, and the test time can be set from 0–9999 seconds. Such close control makes it easy both to optimise testing procedures and ensure the reproduction of identical test conditions.
Relatively short test times, coupled with the use of standardised, inexpensive sample containers makes routine testing extremely cost-effective. www.copleyscientific.com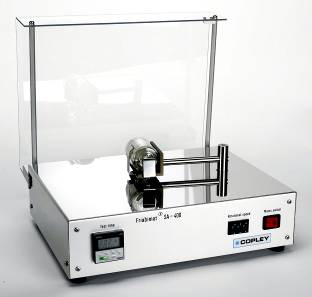 CAPTION: The Friabimat SA-400 from Copley Scientific
About Copley Scientific
Copley Scientific is recognised as the world's leading manufacturer of inhaler test equipment and is a major supplier of test equipment for pharmaceutical solid dosage forms, including tablet dissolution, disintegration, friability, hardness and powder testers.
the company has offices in the UK and Switzerland and a partnership with aerosol particle science experts MSP Corporation in the US. Copley's broad range of testing products for metered-dose inhalers, dry powder inhalers, nebulizers and nasal sprays are supplied and supported worldwide through close relationships with specialist distributors. Serving the pharmaceutical and associated industries, Copley offers an extensive range of equipment for research, production, clinical trials and quality control, as well as full validation and aftersales service, providing a single source for products that meet individual needs. www.copleyscientific.com