4 May 2007; Nottingham, UK: 'Quality solutions for inhaler testing – 2007 Edition', Copley Scientific's new brochure, is now available. Copley Scientific is one of the world's leading suppliers of inhaler test equipment with unrivalled experience in the field and a product offering unsurpassed in terms of quality and breadth. The new brochure includes details of the company's equipment for testing metered dose and dry powder inhalers, nebulisers and nasal sprays. Visit www.copleyscientific.com to download or request the brochure, or contact the company on +44 (0) 115 961 6229.
A distillation of the company's extensive knowledge base, Copley Scientific's regularly updated brochure is highly regarded by those charged with developing and implementing test programmes. It takes the user step-by-step through the procedures outlined in the US and European Pharmacopoeias, explaining relevant background theory and highlighting critical aspects of the analysis. Details of products recently released by the company to improve the reproducibility and productivity of testing are included.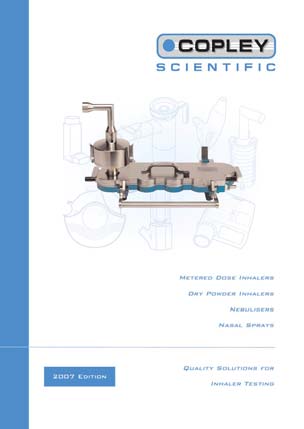 CAPTION: Quality solutions for inhaler testing – 2007 Edition
About Copley Scientific
Copley Scientific is a major provider of test equipment for pharmaceutical solid dosage forms, including tablet dissolution, disintegration, friability, hardness and powder testers, and is recognised as the world's leading manufacturer of inhaler test equipment.
The company has offices in the UK and Switzerland and a partnership with aerosol particle science experts MSP Corporation in the US. Copley's broad range of testing products for metered-dose inhalers, dry powder inhalers, nebulizers and nasal sprays are supplied and supported worldwide through close relationships with specialist distributors. Serving the pharmaceutical and associated industries, Copley offers an extensive range of equipment for research, production, clinical trials and quality control, as well as full validation and aftersales service, providing a single source for products that meet individual needs. www.copleyscientific.com