23 June 2015; Nottingham, UK: A new brochure from Copley Scientific offers comprehensive, authoritative guidance to support the development of optimal testing strategies for new and generic orally inhaled and nasal drug products (OINDPs). 'Quality Solutions for Inhaler Testing, 2015 Edition' includes detailed information on regulatory requirements and highlights pertinent new additions to the company's extensive inhaled product testing range. It can be downloaded freely from the Copley Scientific website (www.copleyscientific.com) with print versions available on request from sales@copleyscientific.co.uk.
"We know that our customers value help with understanding the testing requirements for OINDPs, which can be somewhat complex, especially in view of substantive regulatory and pharmacopeial activity in the past couple of years," said Mark Copley, Sales Director of Copley Scientific. "The brochure is an important element of the support we provide, and I'm delighted to have the latest version launched. Feedback suggests that researchers new to OINDPs find the brochure a useful primer, but I know that as testing requirements evolve it is also valued as a reference document by those with more experience."
'Quality Solutions for Inhaler Testing' includes introductory information about the different types of devices used for inhaled drug delivery and the pharmacopoeias, expert groups and regulatory authorities that define testing requirements. Details of the extensive Copley range are set within the regulatory context with clear instructions provided on how each product can be used to efficiently gather essential data.
"Products making their debut in the 2015 brochure reflect current, defining trends within the industry," said Mr Copley. "So, for example, we have the new Breath Actuation Controller and Facemask Testing Apparatus for metered-dose inhaler (MDI) testing with add-on devices. This enables assessment in accordance with the recently released draft US Pharmacopoeia (USP) chapter, which offers a testing protocol that is more representative of clinical practice. Accessories for the testing of Fluticasone Propionate (FP) and Salmeterol, on the other hand, reflect the growing need for product-specific equipment for popular generics."
To find out more, download the brochure at www.copleyscientific.com.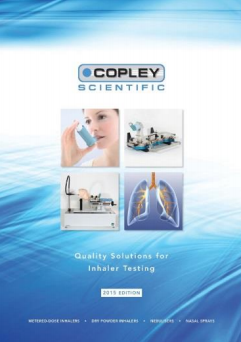 CAPTION: Copley Scientific highlights new products for inhaler testing in the latest edition of 'Quality Solutions for Inhaler Testing'
About Copley Scientific
Copley Scientific is recognised as the world's leading manufacturer and supplier of inhaler test equipment and is a major provider of testing systems for other pharmaceutical dosage forms. The company is also active in detergent testing, air sampling and aerosol characterisation.
Copley Scientific's pharmaceutical product range includes test equipment for delivered dose uniformity and aerodynamic particle size measurement of metered-dose inhalers, dry powder inhalers, nebulizers and nasal sprays; as well as tablets (dissolution, disintegration, friability and hardness) capsules, powders, suppositories and transdermals.
Copley Scientific has offices in the UK and Switzerland. The company works in partnership with aerosol particle science experts MSP Corporation in North America and also distributes MSP Corporation's air sampling and aerosol characterisation products throughout Europe.
Serving the pharmaceutical and associated industries, Copley Scientific offers an extensive range of equipment for research, development and quality control, as well as full validation and aftersales services. This broad range of products is supplied and supported worldwide through a network of specialist distributors.