20 September 2010; Nottingham, UK: Copley Scientific has introduced a new version of its widely used Copley Inhaler Testing Data Analysis Software (CITDAS). Guided by customer feedback, the company has made specific enhancements and has added a number of new features, as well as a separate spreadsheet for the automatic import of data from Waters Empower™ chromatography software. Existing CITDAS V3.00 users can upgrade free of charge.
Since its introduction in 2000, CITDAS has become an industry standard for the analysis and reporting of aerodynamic particle size distribution data from cascade impaction, for metered dose inhalers, dry powder inhalers and nebulisers in accordance with United States and European Pharmacopoeia specifications. It is used in routine R&D and QC analysis for the Andersen Cascade Impactor (ACI), Marple-Miller Impactor (MMI) Multi-Stage Liquid Impinger (MSLI) and the Next Generation Impactor (NGI).
The new CITDAS V3.10 further improves calculation accuracy and also provides a wider range of reporting options. The addition of the Waters Empower™ Import Spreadsheet allows the automated direct transfer of HPLC output data into the CITDAS data entry screen, removing the need for manual transfer, speeding up the process and eliminating the possibility of transcription errors.
For full details visit www.copleyscientific.com or contact Copley Scientific on Tel: +44 (0)115 961 6229 or sales@copleyscientific.co.uk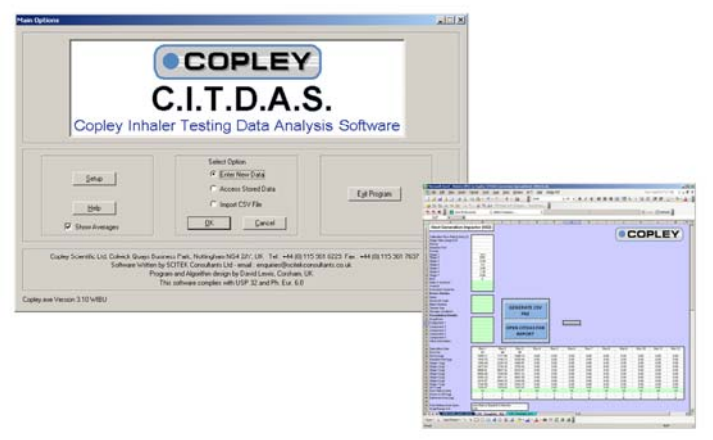 CAPTION: CITDAS V3.10 and the Waters Empower™ Import Spreadsheet
About Copley Scientific
Copley Scientific is recognised as the world's leading manufacturer and supplier of inhaler test equipment and is a major provider of testing systems for other pharmaceutical dosage forms. The company is also active in detergent testing, air sampling and aerosol characterisation.
Copley Scientific's pharmaceutical product range includes test equipment for: delivered dose uniformity and aerodynamic particle size measurement of metered-dose inhalers, dry powder inhalers, nebulizers and nasal sprays; as well as tablets (dissolution, disintegration, friability and hardness) capsules, powders, suppositories and transdermals.
Copley Scientific has offices in the UK and Switzerland. The company works in partnership with aerosol particle science experts MSP Corporation in North America, and also distributes MSP Corporation's air sampling and aerosol characterisation products throughout Europe.
Serving the pharmaceutical and associated industries, Copley Scientific offers an extensive range of equipment for research, development and quality control, as well as full validation and aftersales services. This broad range of products is supplied and supported worldwide through a network of specialist distributors. www.copleyscientific.com