2 February 2009; Nottingham, UK: Copley Scientific has gained certification for its Quality Management System to the new ISO 9001: 2008 standard. The standard, which revises the previous ISO 9001: 2000, was published only in November last year.
Copley Scientific is a leading manufacturer of inhaler test equipment and a major supplier of systems for testing pharmaceutical solid dosage forms, including tablet dissolution, disintegration, friability, hardness and powder testers.
Technical Sales Manager, Mark Copley commented: "We are committed to delivering quality products and services to our customers. Continual improvement is an essential part of achieving customer satisfaction and we constantly strive to meet the expectations of the industries we serve. Operating a Quality Management System that satisfies the requirements of ISO 9001: 2008, is an important part of this approach and we are very pleased to be certified to the very latest standard."
As well as manufacturing at its Nottingham UK, headquarters, Copley Scientific has offices in Switzerland and operates a partnership with aerosol particle science experts MSP Corporation in the US. Its extensive range of equipment for research, development and quality control, is supported by a full validation and aftersales service.
Full details are available at www.copleyscientific.com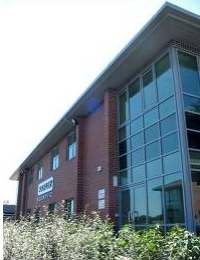 CAPTION: Copley Scientific's Headquarters in Nottingham, UK
About Copley Scientific
Copley Scientific is recognised as the world's leading manufacturer of inhaler test equipment and is a major supplier of test equipment for pharmaceutical solid dosage forms, including tablet dissolution, disintegration, friability, hardness and powder testers. The company has offices in the UK and Switzerland and a partnership with aerosol particle science experts MSP Corporation in the US. Copley's broad range of testing products for metered-dose inhalers, dry powder inhalers, nebulizers and nasal sprays are supplied and supported worldwide through close relationships with specialist distributors. Serving the pharmaceutical and associated industries, Copley offers an extensive range of equipment for research, development and quality control, as well as full validation and aftersales service, providing a single source for products that meet individual needs. www.copleyscientific.com