14 September 2022; Nottingham, UK: EnviroMate™ is a benchtop environmental control chamber from Copley, the world's leading manufacturer and supplier of inhaler testing equipment, designed specifically to improve the repeatability and integrity of inhaler test data. The performance of orally inhaled and nasal drug products (OINDPs) can be directly influenced by ambient temperature, humidity and electrostatics found in the laboratory, as highlighted by the US and European Pharmacopoeias. EnviroMate is an accurate, efficient, low maintenance solution that addresses these issues with considerable value for scientists faced with:
Variable lab conditions or inadequate climate control
OINDPs with high sensitivity to temperature, humidity and/or electrostatics, such as powders and aqueous formulations where hygroscopicity and evaporation can be an issue
Poor inter- or intra-lab reproducibility and unexplained out-of-specification (OOS) results
Achieving better environmental control, in a cost-effective manner, without investing in a dedicated room for testing.
Delivered dose uniformity (DDU) testing and aerodynamic particle size distribution (APSD) measurement by cascade impaction are critical tasks for the inhalation community. Variability in the test environment can affect the dose emission and aerosol generation performance of OINDPs, and APSD measurement methods, compromising the integrity of these tests. By tackling this source of variability EnviroMate reduces the risk of erroneous data and costly testing delays.
EnviroMate is a compact, movable, benchtop unit with a spacious, clear-view chamber, large hinged front door, and slot-sealed rubber entry ports. It comfortably accommodates the Inhaler Testing Workstation™, all types of cascade impactor (including preseparator and mixing inlet as required) with dedicated side wall ports and quick-connectors for interfacing with externally located ancillaries. EnviroMate accurately controls and maintains uniform temperature (± 2°C) and humidity (± 5% RH) by circulating air through the entire chamber, whilst an integrated anti-static system helps to minimise electrostatic effects. The unit contains a self-regenerating desiccant dehumidifier and is refrigerant-free, easing maintenance and environmental impact.
"Controlling environmental conditions precisely during the testing of OINDPs is crucial, but is typically complex and expensive," says Mark Copley, CEO, Copley Scientific. "The EnviroMate is a pragmatic, well-engineered, highly effective option tailored specifically to inhaler testing requirements. It's a great addition to our range and we're sure it will have a positive impact on the quality of test data, for those struggling to achieve stable conditions during DDU and APSD testing."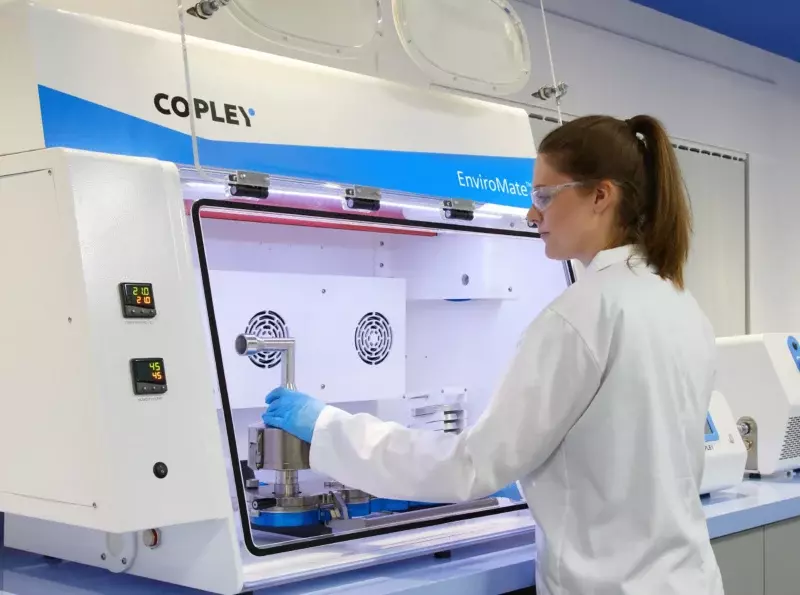 The new EnviroMate™ is a cost-efficient, benchtop solution that provides stable environmental conditions for inhaler testing.
ENDS
About Copley Scientific
Copley Scientific is widely recognised as the world's leading manufacturer and supplier of inhaler test equipment and is a major provider of testing systems for other pharmaceutical dosage forms. The company also supplies equipment for detergent testing.
Copley's pharmaceutical product range includes test equipment for all types of orally inhaled and nasal drug products – metered-dose inhalers, dry powder inhalers, nebulisers and nasal sprays – with a particular focus on solutions for delivered dose uniformity and aerodynamic particle size distribution measurement. It also includes testers for tablets (dissolution, disintegration, friability and hardness) capsules, powders, suppositories, semisolids and transdermals.
Used from R&D through to QC, this extensive range of equipment is supported by a full validation and aftersales service. Copley Scientific has offices in the UK and Switzerland and works in partnership with aerosol particle science experts MSP Corporation in North America; specialist distributors extend localised support across the world. This network provides expert help and training to every customer, directly enhancing the application of all Copley products. www.copleyscientific.com