6 March 2019; Nottingham, UK: Copley Scientific, the global leader in inhaler testing equipment, has announced the addition of four new posts to its customer-facing teams, keeping the emphasis on customer experience as the company grows. The new posts include a technical marketing executive, a technical sales executive, a technical writer and an applications engineer; all based at the company's newly expanded headquarters in Nottingham, UK. The growing team will strengthen and extend the way in which Copley communicates with and supports customers across the globe.
"The quality of service and ongoing support that we offer customers is a driving focus for us," says Anna Sipitanou, Business Development Manager, Copley Scientific, "from first interaction throughout the lifetime of any product purchased. These appointments will help us to realise ambitious plans to, for example, enhance training, engage actively with customers about our evolving product range and how it can help them, and optimise documentation. By building better, stronger relationships we become as responsive as possible to customer needs."
In combination, these roles will boost every area of customer interaction. A primary focus for the technical marketing executive will be to use communication opportunities from social media through to conference and exhibition attendance to ensure that customers get the information they need, when they need it. The new technical sales executive will enhance the company's application-specific support capability for both new and existing customers. The quality and consistency of validation documentation, training literature and instruction manuals will be key areas of attention for the new technical writer while the new applications engineer will concentrate on delivering exemplary on-site interactions including product installation, upgrade and training. To find out more about any of the roles go to https://www.copleyscientific.com/about-us/employment-opportunities.
To find out more about Copley's strategy for growth and to see the new headquarters go to https://bit.ly/2RHSmgm.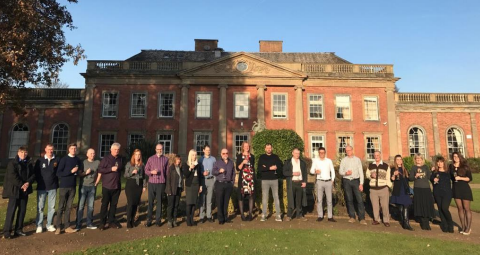 CAPTION: Join the Copley Scientific team
About Copley Scientific
Copley Scientific is widely recognised as the world's leading manufacturer and supplier of inhaler test equipment and is a major provider of testing systems for other pharmaceutical dosage forms. The company also supplies equipment for detergent testing.
Copley Scientific's pharmaceutical product range includes test equipment for all types of orally inhaled and nasal drug products – metered-dose inhalers, dry powder inhalers, nebulizers and nasal sprays – with a particular focus on solutions for delivered dose uniformity and aerodynamic particle size distribution measurement. It also includes testers for tablets (dissolution, disintegration, friability and hardness) capsules, powders, suppositories, semisolids and transdermals.
Used from R&D through to QC, this extensive range of equipment is supported by a full validation and aftersales service. Copley Scientific has offices in the UK and Switzerland and works in partnership with aerosol particle science experts MSP Corporation in North America; specialist distributors extend localised support across the world. This network provides expert help and training to every customer, directly enhancing the application of all Copley Scientific products.