4 September 2015; Nottingham, UK: The new Vaginal Tablet Tester VTT 1 from Copley Scientific is an easy to use, cost-efficient solution for routine vaginal tablet disintegration testing in accordance with Chapter 2.9.2 of the European Pharmacopoeia (Ph. Eur). Offering a simple set-up specifically for vaginal tablets, the new tester reduces equipment investment costs relative to those associated with generic suppository testing, while at the same time enabling simple, reproducible analysis.
The new tester is the first commercial system specified explicitly for vaginal tablets and enables the disintegration testing recommended by the regulators for all vaginal tablets in order to assess in vitro breakdown. Tablet breakdown is a rate-limiting step in the drug delivery process and therefore a critical attribute of this class of pharmaceutical products.
Consisting of a glass water bath, a disintegration basket and a disintegration basket holder, the new tester incorporates a glass disc to cover the apparatus so as to maintain an appropriately humid environment during testing. Also included is a thermostatically controlled hotplate and external temperature probe to maintain test conditions at the 36 – 37o C specified by the Ph. Eur. This hotplate includes a stirrer which though not required for vaginal tablet testing makes it a more generally useful addition to the laboratory.
To find out more about the Vaginal Tablet Tester VTT 1 contact Copley Scientific: sales@copleyscientific.co.uk.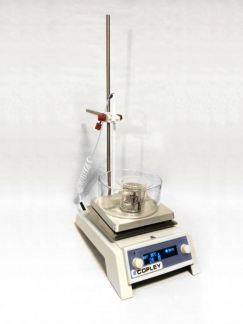 CAPTION: The new Vaginal Tablet Tester VTT 1 from Copley Scientific for routine vaginal tablet disintegration testing
About Copley Scientific
Copley Scientific is recognised as the world's leading manufacturer and supplier of inhaler test equipment and is a major provider of testing systems for other pharmaceutical dosage forms. The company is also active in detergent testing, air sampling and aerosol characterisation.
Copley Scientific's pharmaceutical product range includes test equipment for delivered dose uniformity and aerodynamic particle size measurement of metered-dose inhalers, dry powder inhalers, nebulizers and nasal sprays; as well as tablets (dissolution, disintegration, friability and hardness) capsules, powders, suppositories and transdermals.
Copley Scientific has offices in the UK and Switzerland. The company works in partnership with aerosol particle science experts MSP Corporation in North America and also distributes MSP Corporation's air sampling and aerosol characterisation products throughout Europe.
Serving the pharmaceutical and associated industries, Copley Scientific offers an extensive range of equipment for research, development and quality control, as well as full validation and aftersales services. This broad range of products is supplied and supported worldwide through a network of specialist distributors.