27 June 2007; Nottingham, UK: Copley Scientific's new Sample Preparation Unit (SPU) Series automates post-test rinsing of the induction ports and delivered dose sampling apparatus used in testing inhaled drugs. The SPU aids drug recovery from USP/Ph. Eur. induction ports and delivered dose sampling apparatus. Applicable for both metered dose and dry powder inhalers, it is available in two configurations, with either one or two rinsing positions.
Automated rinsing, which involves post-test recovery of the drug using a suitable solvent, significantly reduces analyst-to-analyst variability and ensures reproducible dissolution. More efficient in terms of solvent use it is particularly valuable for applications requiring low solvent rinse volumes. Furthermore it decreases the risk of repetitive strain injury associated with laborious manual methods and frees up time for the operator to perform other related tasks.
The SPU is a cost-effective, labour-saving addition to Copley's extensive range of equipment for inhaled drug testing. A small footprint system it ensures complete and repeated wetting of the component's internal surfaces during rinsing, optimising the drug recovery process. Any combination of four different interchangeable fixtures can be selected, allowing the user to match rinsing capabilities with laboratory demands. While the SPU 1000 model has a single rinsing fixture position, the SPU 2000 model has two, allowing simultaneous rinsing of any two components.
Both units offer variable speed rotation in the range 20 – 60 rpm and have automatic reverse rotation. Rinsing can be controlled on the basis of time (in the range 0 – 8 hours) or number of turns (0 to 9999). The required rinsing parameters are simply selected once solvent has been dispensed into the component, the open ends have been capped, and the component is secured in the fixture. www.copleyscientific.co.uk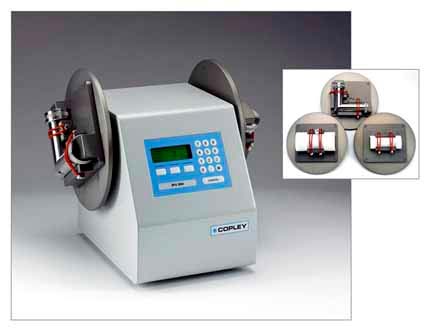 CAPTION: The new Sample Preparation Unit (SPU) from Copley Scientific with fixtures (inset)
About Copley Scientific
Copley Scientific is a major provider of test equipment for pharmaceutical solid dosage forms, including tablet dissolution, disintegration, friability, hardness and powder testers, and is recognised as the world's leading manufacturer of inhaler test equipment. The company has offices in the UK and Switzerland and a partnership with aerosol particle science experts MSP Corporation in the US.
Copley's broad range of testing products for metered-dose inhalers, dry powder inhalers, nebulizers and nasal sprays are supplied and supported worldwide through close relationships with specialist distributors. Serving the pharmaceutical and associated industries, Copley offers an extensive range of equipment for research, production, clinical trials and quality control, as well as full validation and aftersales service, providing a single source for products that meet individual needs. www.copleyscientific.com