20 March 2017; Nottingham, UK: Copley Scientific, a leading manufacturer of laboratory testing equipment, has released a new informative guide for lab-scale laundry and dishwasher detergent testing. The new guide will help all those looking to establish relevant, reproducible, cost-efficient methods for formulation, QC and comparative assessment of detergents. Download it via http://bit.ly/COPDET
All cleaning products are tested in full-scale domestic washing machines and dishwashers, but such testing is time-, energy- and detergent-intensive. It can also generate less than optimal data for certain product development applications and/or quality control. Complementary lab-scale tests, using a Tergotometer, can be applied to evaluate the relative cleaning performance of soap and detergents; monitor the washability and colour fastness of fabrics; and/or assess detergent performance as a function of temperature.
Mark Copley, Sales Director at Copley Scientific explains "With reformulation of detergents continuing at a relentless pace – to meet demanding environmental and performance requirements – we have seen a surge in interest in our Tergotometer. Its design has been refined to the point of precision performance, so today's instrument can help all detergent producers fully optimise their testing strategies and access the data they need in the most cost-efficient way.".
The Copley Tergotometer is a laboratory-scale unit which simulates the action of miniature washing machines or, with the optional dishwasher accessory, domestic dishwashers. The ability to test detergents in both applications is a unique advantage of the Copley system. Eight samples can be processed simultaneously under identical conditions of speed, time and temperature and in a highly reproducible way, whilst limiting the quantities of detergent and water used. Any number of variables can be tested in this set-up, for example, the composition of the wash solution, degree of water hardness, pH and bleach, and changes to the duration of washing and drying times, can all be reliably assessed.
Copley Scientific's guide for detergent testing is available to download free of charge here – http://bit.ly/COPDET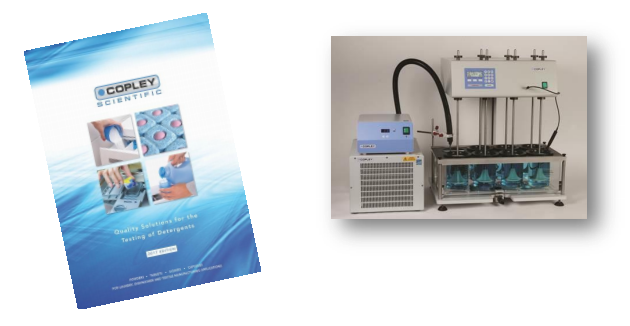 CAPTION: A new technical guide 'Quality Solutions for the Testing of Detergents' is now available from Copley Scientific
About Copley Scientific
Copley Scientific is recognised as the world's leading manufacturer and supplier of inhaler test equipment and is a major provider of testing systems for other pharmaceutical dosage forms. The company is also active in detergent testing.
Copley Scientific's pharmaceutical product range includes test equipment for delivered dose uniformity and aerodynamic particle size measurement of metered-dose inhalers, dry powder inhalers, nebulizers and nasal sprays; as well as tablets (dissolution, disintegration, friability and hardness) capsules, powders, suppositories, semisolids and transdermals.
Copley Scientific has offices in the UK and Switzerland and works in partnership with aerosol particle science experts MSP Corporation in North America. Serving the pharmaceutical and detergent industries, Copley Scientific offers an extensive range of equipment for research, development and quality control, as well as full validation and aftersales services. This broad range of products is supplied and supported worldwide through a network of specialist distributors.