1 December 2016; Nottingham, UK: Copley Scientific, the world's leading manufacturer of inhaler test equipment, will be introducing the new Facemask Test Apparatus (FMA) to Next Generation Impactor (NGI) accessory for streamlined MDI testing, in accordance with draft USP chapter <1602>, at Drug Delivery to the Lungs 27 (DDL27). This conference, which will take place at the Edinburgh International Conference Centre, Scotland, from 7th December to 9th December 2016, is one of the primary events for the inhalation community. Also on display on the Copley stand will be products specifically for generics testing, and for more clinically relevant inhaler testing.
The new FMA to NGI accessory makes it easier to measure the aerodynamic particle size distribution (APSD) of MDIs with spacers/VHCs that utilise facemasks, using the NGI, in a relevant and reproducible manner. Combining face models with the NGI induction port, the accessory allows infant, child or adult facemasks to be interfaced directly with the NGI under controlled conditions. The alternative approach of removing the facemask often leads to a poor fit between the spacer/VHC orifice and the induction port, further making the test method less representative of the clinical situation.
Copley will also be showcasing other equipment that is used in the testing of inhaled products, including its Andersen Cascade Impactor (ACI) and Alberta Idealised Throat (AIT). The ACI on display has been specially modified to determine the aerodynamic particle size distribution (APSD) of generic Fluticasone Propionate/Salmeterol Xinafoate (PF/SX); an extremely effective combination treatment for asthma and COPD. This modified impactor has been developed in response to the recent release of five new USP drug-specific monographs for common generic targets.
The revolutionary Alberta Idealised Throat (AIT) – available with both adult and child geometries – is used during product development to better understand deposition of orally inhaled drug products (OIDPs) in the human throat. The AIT uses clinical realism to improve the in vivo and in vitro relationship; something which is notoriously difficult to achieve and yet critical for understanding therapeutic effectiveness. The product was developed as a result of research into patient populations through information from CT scans, MRI scans and direct observational data. The product is quick and simple to use and has numerous performance benefits over human throat casts.
Copley Scientific will be showcasing these products throughout DDL27 and experts will on hand to discuss any aspect of inhaler testing. Find out more online at www.copleyscientific.com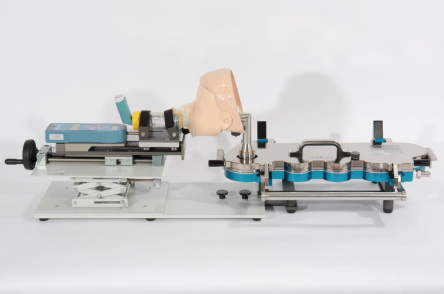 CAPTION: The new FMA to NGI accessory from Copley Scientific enables measurement of the aerodynamic particle size distribution (APSD) of MDIs with spacers/valved holding chambers (VHCs) that utilise facemasks.
About Copley Scientific
Copley Scientific is recognised as the world's leading manufacturer and supplier of inhaler test equipment and is a major provider of testing systems for other pharmaceutical dosage forms. The company is also active in detergent testing, air sampling and aerosol characterisation.
Copley Scientific's pharmaceutical product range includes test equipment for delivered dose uniformity and aerodynamic particle size measurement of metered-dose inhalers, dry powder inhalers, nebulizers and nasal sprays; as well as tablets (dissolution, disintegration, friability and hardness) capsules, powders, suppositories and transdermals.
Copley Scientific has offices in the UK and Switzerland. The company works in partnership with aerosol particle science experts MSP Corporation in North America and also distributes MSP Corporation's air sampling and aerosol characterisation products throughout Europe.
Serving the pharmaceutical and associated industries, Copley Scientific offers an extensive range of equipment for research, development and quality control, as well as full validation and aftersales services. This broad range of products is supplied and supported worldwide through a network of specialist distributors.