28 November 2019; Nottingham, UK: New recruits to the Copley Scientific team are helping to bring innovative pharmaceutical test equipment to customers faster, as the company invests heavily in a product pipeline matched to industry needs. Edward Brundrett, a new technical sales executive is working to enhance every aspect of the sales process while Mark Lo brings fresh advanced mechanical engineering knowledge to the design team.
"We're committed to providing a sales team that combines the technical expertise and responsiveness needed to serve our customers effectively and we are delighted to welcome Edward to it," said Richard Postlethwaite, Chief Operating Officer, Copley Scientific. "As global leaders in testing equipment for inhalers and other dosage forms, we routinely break new ground with innovative products for faster, more reliable and more patient representative testing. Our knowledgeable sales team supports customers in identifying which products will help them to best address the challenges they face, and we are committed to investing in its growth and evolution."
With a reputation for continuous improvement, Copley has recently added market-leading automation expertise to its portfolio with the acquisition of Novi Systems. This brings a new dimension to the design process. "Mark joins an experienced and highly successful design team at a particularly exciting time," continues Richard Postlethwaite. "The smart use of automation has significant potential to reduce the variability associated with inhaler testing, which, due to its complexity, remains predominantly manual in most labs. And, of course, to boost productivity. A defining focus for the design team is the evolution of our extensive portfolio to allow customers to answer to increasingly complex regulatory requirements, as efficiently as possible."
Copley designs and manufactures the equipment required for testing metered-dose inhalers, dry powder inhalers, nebuliser and nasal sprays, as well as tablets, capsules, suppositories, transdermals, powders, granules, creams and ointments, from R&D through to QC. An unrivalled understanding of the practicalities of testing, in combination with a track record of collaborating closely with the industry in order to precisely define requirements, underpins the success of the current, broad product range.
"It is extremely rewarding to be working on products that we know will bring real value to our customers," said Richard Postlethwaite "and we look forward to delivering them with exemplary levels of customer service."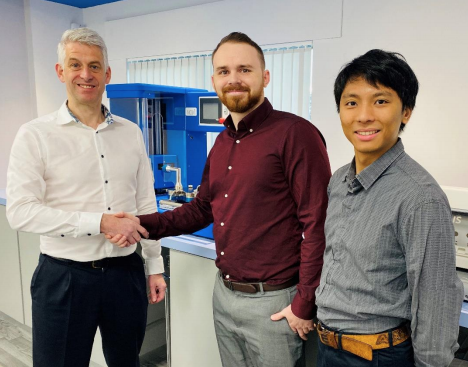 CAPTION: New Technical Sales Executive, Edward Brundrett (middle) and new Design Engineer, Mark Lo (right) welcomed to the company by Chief Operating Officer, Richard Postlethwaite (left).
About Copley Scientific
Copley Scientific is widely recognised as the world's leading manufacturer and supplier of inhaler test equipment and is a major provider of testing systems for other pharmaceutical dosage forms. The company also supplies equipment for detergent testing.
Copley Scientific's pharmaceutical product range includes test equipment for all types of orally inhaled and nasal drug products – metered-dose inhalers, dry powder inhalers, nebulisers and nasal sprays – with a particular focus on solutions for delivered dose uniformity and aerodynamic particle size distribution measurement. It also includes testers for tablets (dissolution, disintegration, friability and hardness) capsules, powders, suppositories, semisolids and transdermals.
Used from R&D through to QC, this extensive range of equipment is supported by a full validation and aftersales service. Copley Scientific has offices in the UK and Switzerland and works in partnership with aerosol particle science experts MSP Corporation in North America; specialist distributors extend localised support across the world. This network provides expert help and training to every customer, directly enhancing the application of all Copley Scientific products. www.copleyscientific.com