6 February 2020; Nottingham, UK: Copley Scientific, a company renowned for high quality pharmaceutical testing equipment, begins the decade with a major rebrand complete with a new brand promise – Innovative – Compliant – Trusted – to capture the defining characteristics of Copley products. The rebrand reflects the evolution of the company, following a period of sustained growth through acquisition and recruitment, and will be immediately apparent in a newly launched, comprehensively upgraded pharmaceutical testing platform. Smart, easy-to-use, and underpinned by the new brand promise, these products present a compelling proposition for high productivity, cost-efficient everyday pharmaceutical testing. The company's website has also been substantially upgraded and a new set of clear, informative product brochures released. A valuable resource for all customers, the new website offers detailed technical information to support testing to the standards defined by the regulators and pharmacopoeias and incorporates a new video giving insight into the company's global operations.
The new pharmaceutical testing platform meets customer requirements for reliable, cost-effective solutions for routine analysis, including tablet dissolution, disintegration, friability and hardness testing that deliver high quality data. Key features of the new range include touchscreens that simplify operation to the point of one-touch-start testing, flexible and extensive data reporting options (to PC or printer), and durable, streamlined designs that ease and minimise cleaning and maintenance. These features are also evident in the newly updated Copley Tergotometer, an efficient, bench-top instrument for detergent testing. New product additions to the company's extensive, market-leading inhaler testing product range are due for release in the coming months.
The new promise clearly communicates Copley's enduring values and the ongoing focus of the recently expanded team. Innovation and a commitment to the highest engineering standards deliver solutions that answer directly to well-understood customer requirements. Productivity and efficiency are critical but so too is easing the compliance burden associated with testing in a highly regulated environment. As a family business, Copley's long and distinguished reputation underpins customer trust in its products and the results they deliver.
To find out more about what the brand promise means in practice and about the efficiency and ease of use of the new pharmaceutical testing equipment, visit the new website: www.copleyscientific.com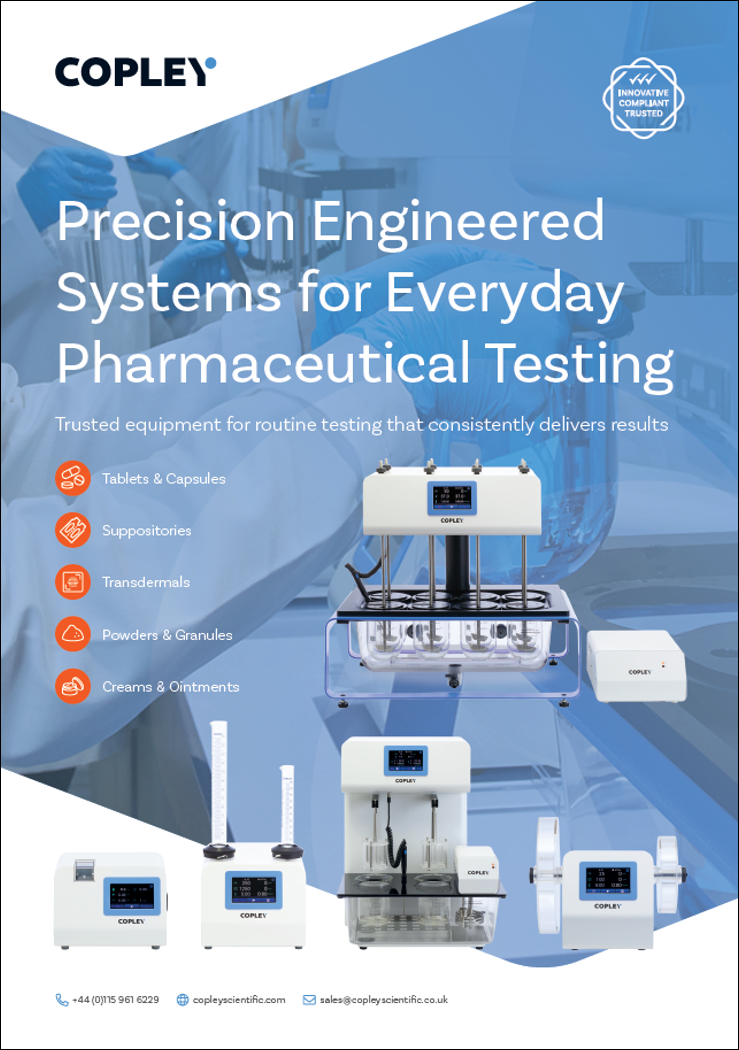 CAPTION: Copley advert for newly released Pharmaceutical Testing platform
About Copley Scientific
Copley Scientific is widely recognised as the world's leading manufacturer and supplier of inhaler test equipment and is a major provider of testing systems for other pharmaceutical dosage forms. The company also supplies equipment for detergent testing.
Copley's pharmaceutical product range includes test equipment for all types of orally inhaled and nasal drug products – metered-dose inhalers, dry powder inhalers, nebulisers and nasal sprays – with a particular focus on solutions for delivered dose uniformity and aerodynamic particle size distribution measurement. It also includes testers for tablets (dissolution, disintegration, friability and hardness) capsules, powders, suppositories, semisolids and transdermals.
Used from R&D through to QC, this extensive range of equipment is supported by a full validation and aftersales service. Copley Scientific has offices in the UK and Switzerland and works in partnership with aerosol particle science experts MSP Corporation in North America; specialist distributors extend localised support across the world. This network provides expert help and training to every customer, directly enhancing the application of all Copley products. www.copleyscientific.com