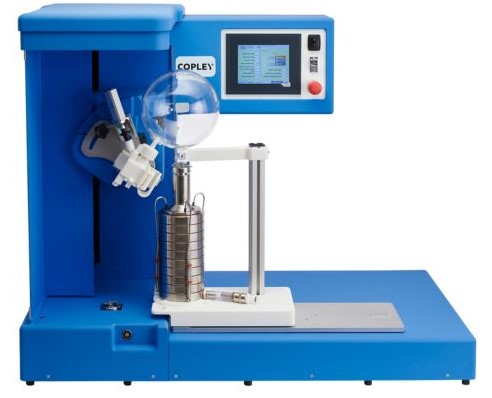 Like nasal sprays, nasal aerosols also typically produce droplets in the range 20-200 microns, which is outside the effective range of cascade impactors. However, most sprays typically deliver a proportion (typically <5%) of fine droplets in the <10 micron range, which must be quantified.
Used together with a cascade impactor such as the Andersen Cascade Impactor (ACI) and a high volume expansion chamber, such as the Glass Expansion Chamber, the Vertus® II/Vertus® Plus automated shake, fire and flow control systems can be used to meet the need for highly consistent nasal spray actuation as recommended by USP <601>.
Shot weight measurement
The Vertus® Plus model includes an integrated analytical balance for automated nasal spray shot weight measurement.
Nasal Aerosols: Semi-Automated APSD Measurement
The Vertus® automated shake, fire and flow range is made up of integrated turn-key solutions for precise, controlled and reproducible nasal spray testing. Compatible with most nasal sprays, the Vertus II or Vertus Plus offers analysts complete control over:
The speed, angle and duration of shaking, ahead of actuation
Firing force and the speed of application and release of that force
The time delay between the end of shaking and device actuation
View the Vertus® Range
How Does a Cascade Impactor Work?
Manual Nasal Spray Sampling
In addition to the Vertus® automated shake, fire and weigh systems, we offer a full suite of products to support manual testing, including flow meters, flow controllers and vacuum pumps.
View manual the system
Improve efficiency
Reduce variability
Eliminate handling error
Increase testing capacity