6 October 2015; Nottingham, UK: Mark Copley, Sales Director for Copley Scientific, will focus on the critical issue of how to enhance the in vivo relevance of in vitro test methods for inhaled products, at two key events in November: the Eastern Analytical Symposium (EAS) and the 2015 Inhaled Drug Delivery (IDD)Conference. EAS takes place from 16th – 18th Nov in New Jersey, USA (http://easinc.org/wordpress) while the IDD conference will be held in London, UK on 19th and 20th Nov (https://management-forum.co.uk/product/details/1714/inhaled-drug-delivery).
"Better in vitro-in vivo correlation (IVIVC) has long been an industry aim, but the current focus on reducing development costs and cutting time to market adds impetus to the desire for progress," said Mark Copley. "Secure IVIVCs, whilst extremely complex, have the potential to accelerate the development of both new and generic orally inhaled products (OIPs), whilst reducing the risk and costs associated with unexpected outcomes in clinical trials. Updating testing strategies to capitalise on the latest developments in test equipment can therefore yield substantial dividends."
Mark Copley's presentations will focus on practical strategies that can be applied to ensure that in vitro test data – results measured in the lab – are more representative of in vivo performance – the behaviour of the drug in clinic. The limitations of conventional pharmacopoeial test methods will be discussed within this context, and data will be presented demonstrating the benefits of applying enhanced test methods involving more realistic mouth and throat models, patient representative breath profiles and dissolution testing. Such methods provide detailed, patient-relevant insight into the behaviour of inhaled products to support the secure development of new products.
The invited presentation at EAS forms part of a session focusing on the 'Critical issues in Inhalation product development' which takes place on Wednesday 18th Nov. The IDD talk is entitled 'Improving the relevance of in vitro test methods' and takes place in the afternoon session on the 20th November.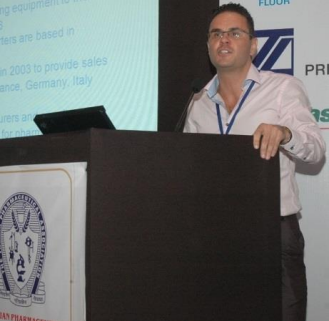 Caption: Mark Copley will present on the latest strategies for improving the clinical relevance of inhaled product testing at upcoming events
About Copley Scientific
Copley Scientific is recognised as the world's leading manufacturer and supplier of inhaler test equipment and is a major provider of testing systems for other pharmaceutical dosage forms. The company is also active in detergent testing, air sampling and aerosol characterisation.
Copley Scientific's pharmaceutical product range includes test equipment for delivered dose uniformity and aerodynamic particle size measurement of metered-dose inhalers, dry powder inhalers, nebulizers and nasal sprays; as well as tablets (dissolution, disintegration, friability and hardness) capsules, powders, suppositories and transdermals.
Copley Scientific has offices in the UK and Switzerland. The company works in partnership with aerosol particle science experts MSP Corporation in North America and also distributes MSP Corporation's air sampling and aerosol characterisation products throughout Europe.
Serving the pharmaceutical and associated industries, Copley Scientific offers an extensive range of equipment for research, development and quality control, as well as full validation and aftersales services. This broad range of products is supplied and supported worldwide through a network of specialist distributors.