22 November 2022; Nottingham, UK: Copley Scientific has been named Nottinghamshire Business of the Year at the annual East Midlands Chamber of Commerce awards. Copley is the world's leading manufacturer and supplier of inhaler testing equipment and a major provider of test equipment for other pharmaceutical dosage forms. Sustained growth, strong export sales, international presence, and commitment to customers and employees alike underpinned a total of three wins for the company including the award for Excellence in International Trade.
'It's extremely gratifying to have received these awards,' said Mr Mark Copley, CEO, Copley 'which reflect sustained hard work by the whole Copley team. Copley has been in business for more than 75 years. Over that time the landscape of the pharmaceutical industry has changed beyond recognition but not our values. Our enduring focus is to provide customers with the test equipment they need to succeed with new pharmaceutical products and in everyday manufacture. Innovation and continuous improvement are at the heart of all we do.'
By combining highly reliable, precision products of the highest quality with exemplary customer service – from first contact to after-sales, service, and training – Copley has earned respect and recognition on the global stage. Today a wide range of products are exported to every corner of the globe. The growing Copley team is comprised of highly skilled and knowledgeable staff, united by a commitment to excellence. Recruiting and investing in the right personnel is a defining focus as Copley looks ahead to a bright future.
'Thank you to the East Midlands Chamber of Commerce for this recognition,' said Mark Copley 'and to everyone who has contributed to Copley's success, particularly over the last few years, which have been especially demanding. I'm proud of what we've achieved and excited to see what the future will bring.'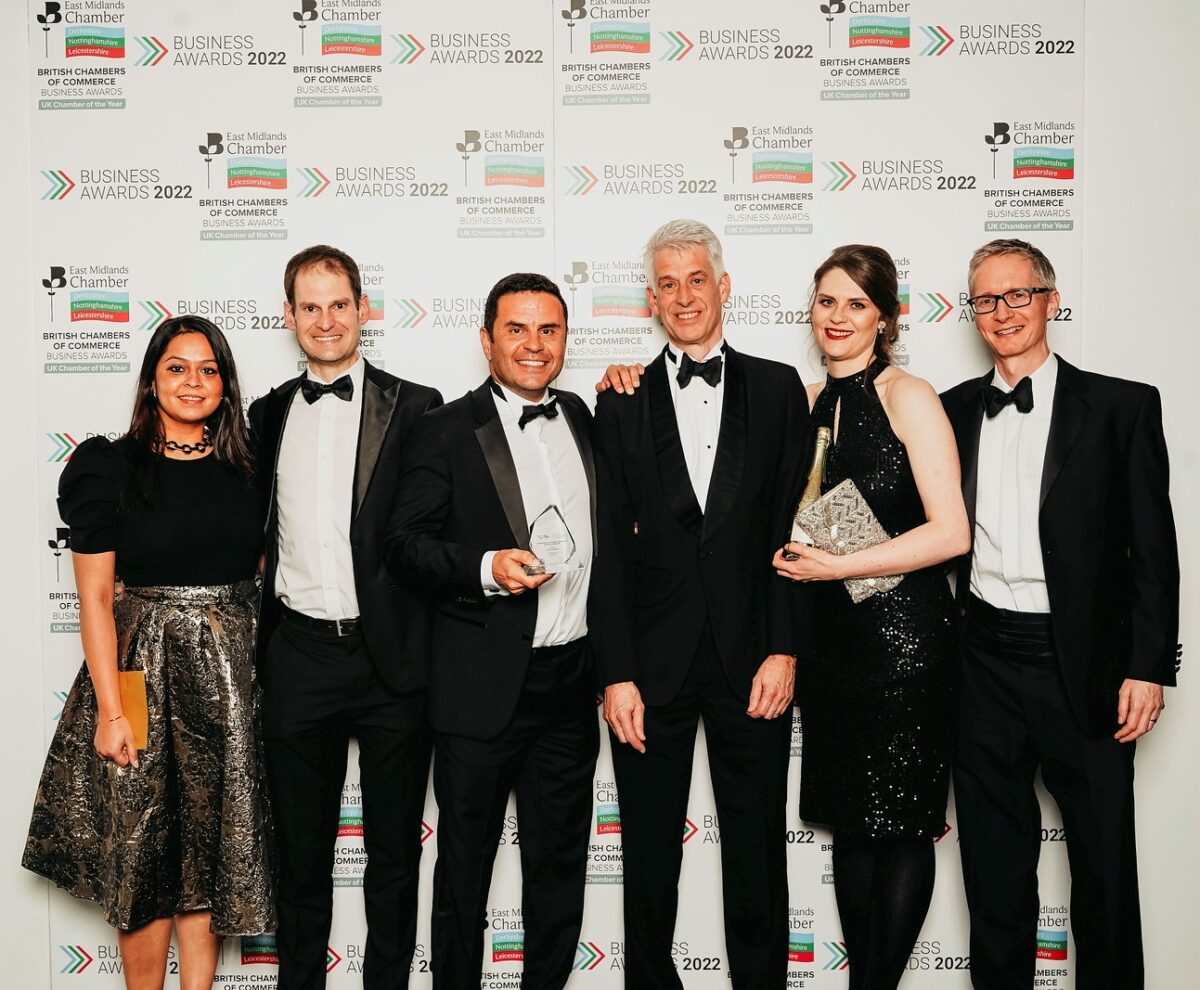 Mark Copley and members of the Copley team receive the Business of the Year Award from Pujah Joshi, Tax Director at Mazars (sponsor of the prize) at the East Midlands Chamber of Commerce Awards Dinner.
Photo credit: East Midlands Chamber (Derbyshire, Nottinghamshire, Leicestershire)
About Copley Scientific
Copley Scientific is widely recognised as the world's leading manufacturer and supplier of inhaler test equipment and is a major provider of testing systems for other pharmaceutical dosage forms. The company also supplies equipment for detergent testing.
Copley's pharmaceutical product range includes test equipment for all types of orally inhaled and nasal drug products – metered-dose inhalers, dry powder inhalers, nebulisers and nasal sprays – with a particular focus on solutions for delivered dose uniformity and aerodynamic particle size distribution measurement. It also includes testers for tablets (dissolution, disintegration, friability and hardness) capsules, powders, suppositories, semisolids and transdermals.
Used from R&D through to QC, this extensive range of equipment is supported by a full validation and aftersales service. Copley has offices in the UK and Switzerland and works in partnership with specialist distributors, extending localised support across the world. This network provides expert help and training to every customer, directly enhancing the application of all Copley products. www.copleyscientific.com