10 March 2015; Nottingham, UK: Copley Scientific has released new firmware for its Critical Flow Controller Model TPK 2000 that streamlines dry powder inhaler (DPI) testing, delivering time and cost savings while safeguarding data quality. The new firmware allows the TPK 2000, a standard accessory for DPI testing, to be configured to leak test a cascade impactor, without the need for any additional equipment. By eliminating the need for repeated connection/disconnection to/from leak testing equipment the TPK 2000 firmware speeds up testing while at the same time encouraging good operating practice that ensures data integrity.
Cascade impactors are used to measure aerodynamic particle size distribution (APSD), a critical quality attribute for all DPIs. To achieve calibrated performance, the airflow rate through an impactor must be tightly controlled. Leak testing provides an essential check of system suitability, ensuring there are no leaks of air into the impactor that could compromise aerodynamic performance of stages downstream of the leak itself.
The new TPK 2000 firmware delivers cost savings by eliminating the need for any additional leak testing equipment. It also saves time during cascade impactor testing, since the TPK 2000 and cascade impactor can remain in-situ (as during routine testing) without disconnection for the purposes of introducing a separate leak tester in between. By enabling seamless leak testing within the cascade impaction testing workflow the new TPK 2000 firmware encourages leak testing ahead of every analysis, as recommended by the manufacturer, thereby safeguarding data quality.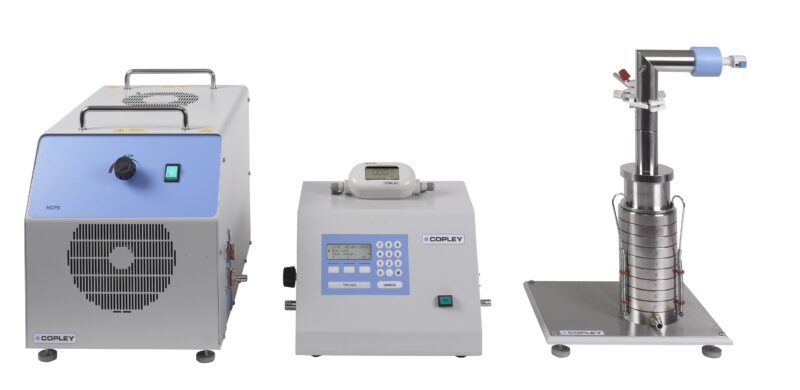 CAPTION: A streamlined set-up for routine dry powder inhaler testing that can now be configured to leak test, shown here with the Andersen Cascade Impactor (ACI).
About Copley Scientific
Copley Scientific is recognised as the world's leading manufacturer and supplier of inhaler test equipment and is a major provider of testing systems for other pharmaceutical dosage forms. The company is also active in detergent testing, air sampling and aerosol characterisation.
Copley Scientific's pharmaceutical product range includes test equipment for delivered dose uniformity and aerodynamic particle size measurement of metered-dose inhalers, dry powder inhalers, nebulizers and nasal sprays; as well as tablets (dissolution, disintegration, friability and hardness) capsules, powders, suppositories and transdermals.
Copley Scientific has offices in the UK and Switzerland. The company works in partnership with aerosol particle science experts MSP Corporation in North America and also distributes MSP Corporation's air sampling and aerosol characterisation products throughout Europe.
Serving the pharmaceutical and associated industries, Copley Scientific offers an extensive range of equipment for research, development and quality control, as well as full validation and aftersales services. This broad range of products is supplied and supported worldwide through a network of specialist distributors